When someone asks if you're ready for 'the holidays', our minds too often skip straight ahead to the winter months. 'Tis the season, right? Well, let's back up a little bit and stop at Halloween, even though most craft and department stores already started laying out their Christmas decorations months ago. As a quilter, you may want to start with something small, like a cute quilted Halloween decoration.
Today, our to-do list for your Halloween crafting this year includes both actual quilts as well as other projects that incorporate quilting but can be used more around the house or as decorations. Halloween can be overly focused around creating our own Halloween costumes that we get caught up in actually decorating and preparing for the holiday itself! Take a few hours to sit down with one of these projects for your home, and you'll be glad you took the time to make your home just a little bit more festive this year.
Quilts:
Pumpkin Patch Free Motion Design (Super popular!)
By the Light of the Moon Quilt from Baby Lock
Halloween Chevron Quilt Tutorial from The Little Fabric Shop
Spiders In the Attic Quilt from Quilt Bug
Halloween Block Party Quilt from Pink Chalk Fabrics
Other Halloween Designs:
Skull Halloween Decoration
Too Cute to Spook Halloween Pillow
Didn't quite satisfy your Halloween quilting fever? No problem! Check out this collection of even more: 14 Halloween Quilt Patterns!
What's your favorite way to celebrate this spooky holiday?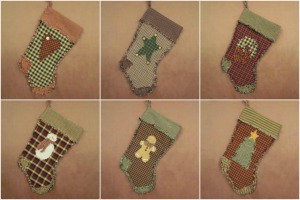 Psst! Today is your LAST CHANCE to win everything you need to make these gorgeous Christmas stockings, courtesy of Jubilee Homespun and Fairfield! Enter to win before midnight tonight.
Latest posts by FaveQuilts
(see all)