Every quilt pattern has a distinct character. You can look rustic with a neutral rectangle pattern, mystical with a Celtic pattern, or playful with a youthful star quilt pattern. However, if you want to give your space a refined, feminine aesthetic, then you should look no further than these Lovely Lattice Quilt Patterns from Fave Quilts!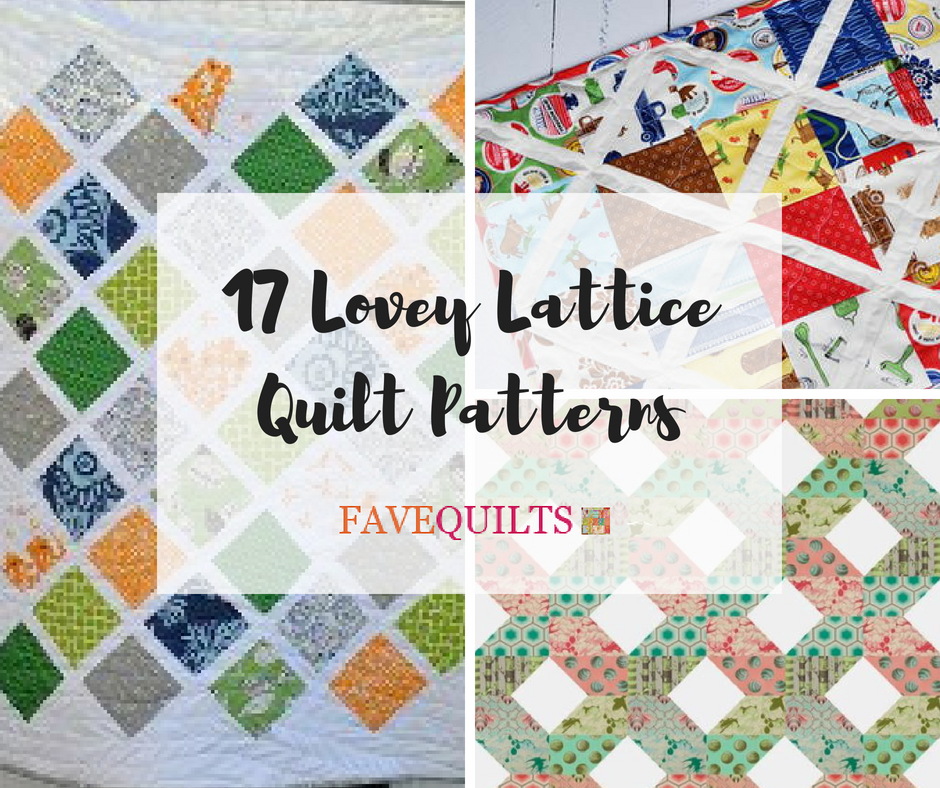 A geometric design with diamond-shaped cutouts, lattice quilt patterns are modeled after a trellis, which gives them a delicate, floral look. I always think of the balcony scene in Romeo and Juliet when looking at these easily sewn beauties! It's easy to hear Romeo's ardent poetry while looking at such a romantic pattern.
Not only are these patterns fairy-tale-charming, but they're also a dream for any natural organizer. The lattice quilt pattern's clean lines give each piece a neat and tidy look even when the individual blocks are chock-full of color. These quilts look positively stunning while complementing a traditionally decorated space or while softening the edges of an industrial home design. A lattice quilt pattern can pair with any home style and still make a splash!
So, if you're prepared to give your home the cleanest, most exquisite, and most comely look it has ever had, then these lovely lattice quilt patterns are just the patterns for you! What are you waiting for?
What You Came for – Lattice Quilt Patterns
Is your decor in serious need of an elegant-yet-homey update? Then these lattice quilt patterns are just what your sewing list needs. Channeling the delicate floral energy of spring, these quilt tutorials will show you how to make lovely pieces you'll lay out on the sofa all season long! Select a pastel palette for a soft, girlish finish, or choose vibrant colors for a statement piece that will draw the whole room together. Whatever combination you choose, these patterns are sure to stun.
Scandinavian Spring Quilt Pattern
Chrysalis Lattice Quilt Pattern
Springtime Diamond Lattice and Diamond Extra Quilts
Anne of Green Gables Inspired Christmas Quilt
Lattice Baby Quilt Patterns
If you love swathing your home in the sophistication of full-sized lattice quilt patterns, then you'll go crazy for these bite-sized baby quilt patterns! The cleanliness of these designs will make any nursery look pristine, even if there are toys strewn across the floor. Colorful and cute, these patterns will brighten up any space with the utmost coziness. Make these simply elegant quilts as baby shower gifts for the newest addition to the family, or sew some for yourself using all of Baby's favorite colors!
Springtime Lattice Baby Quilt Tutorial
Floral Diamond Lattice Baby Quilt
Lattice Lap Quilts, Quilt Blocks, Table Runners, and More!
Why should quilts come in just one size? Dynamic, versatile, and gorgeous-to-boot, these lattice quilt patterns can be used as anything from table decor to a picnic blanket. They range from oblong runners to square quilt blocks, too, so that you can bring the gracefulness of the lattice design anywhere you'd like. Quilts don't have to be one-size-fits-all. Explore this clever list for alternate lattice quilt patterns that will fulfill any home decor need!
What's do lattice quilts remind you of? Let us know below in the comments!
Latest posts by FaveQuilts
(see all)