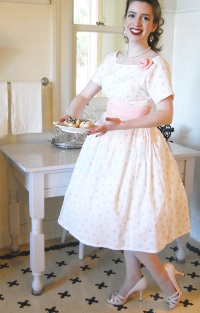 No, you're not dreaming, though admittedly there is something wonderfully ethereal about this giveaway. For those of you who may have given up on miracles, we're here to instill some new hope (and a new pattern) into your collection of dreams and projects.
Are we getting a little ahead of ourselves? Perhaps. Is this Ladies' 1958 Party Dress Pattern just a tad too adorable for us handle? It's likely. Do we wish we could grab all of the retro patterns from Sense and Sensibility and head north for some worry-free, self-centered sewing? Absolutely.
Too bad our office has locked us in.
Call us crazy, but we know once you set eyes on this beautiful vintage dress you'll most definitely feel the urge to sew retro clothing and projects yourself. Let's face it, part of the reason why those vintage photos (the really cute ones, not the scary ones) look so charming is because the fit on those dresses is phenomenally flattering. Call a cinched waist and a-line skirt old-fashioned, but our ancestors knew exactly how to dress their body types for a flattering look.
And guess what? You can too. If you live in the US or Canada, arrived into this big, bad world in or before 1996 (spare the math, we're talking about 18+-year-olds), and love vintage then you can enter to win this gorgeous, full pattern!
Warning: This giveaway only lasts until 7/21/2014 at midnight! Hurry & Enter!
What if I don't win?
Not to worry! After mourning for the appropriate amount of time you can 1) just enter AllFreeSewing's next giveaway and 2) sew your own vintage-inspired clothing for free! AllFreeSewing has entire collections devoted to the past, and we want to share them with you. Care for a sampler? Your wish is our command:
Whether you're in love with the '50s (clearly, we are), or prefer the jazzy style of '20s, resourcefulness of the '30s, or classic looks from the '40s, chances are you'll find ample inspiration to sew dresses and more from our collections.
Tell us, what's your favorite era for fashion?
Latest posts by Seams and Scissors
(see all)