I
t's a re-release, everyone. Today we're thrilled to announce the brand new (re)birth of one of our favorite eBook collections to date, 9 Ways to Transform Old T-Shirts. Sound familiar? It should.
If you kindly take a look at the image to your left you'll see our original cover for this amazing free eBook. It's been on AllFreeSewing, in newsletters, in sliders. It's pretty much traveled the digital world.
9 Ways to Transform Old T-Shirts: The History
Way back in 2010 when AllFreeSewing was just learning how to walk, this compilation of free t-shirt tutorials was put together. Throughout its long life this eBook has become a classic on AllFreeSewing.
Why this Free eBook Knocks Everyone's Socks (or T-Shirts) Off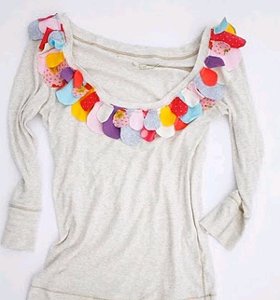 Filled with projects on how to refashion t-shirts for home decor, accessories, and more this collection has it all. But what makes it great is its very essence. In a nutshell, you don't need fancy fabric to participate in this eBook. Look at the title. These projects utilize those old college or high school tees you have stacked up in a bin in your closet. You may not want to toss them because they're perfectly good, but you never wear them. Use these as fabric by applying them to these specialty tutorials.
What's Different?
Again, the essence of this eBook was top notch. Why change a good thing? The little elves at AllFreeSewing worked to keep the content of this free eBook; so if you're a frequent visitor to it, worry not it's all still there. All we did was give it a little facelift. Brightened up with a fresh cover and spread into one column for easier reading, 9 Ways to Transform Old T-Shirts is just a little more happening and improved for the mid 10's.
We could go over everything you'll find in this eBook right here, but honestly you 1) might already know and 2) you'll get all of this information on the download page right here. Why waste anyone's precious time when they could be re-imagining their old tees?
The Basics:
You don't have to sign up for anything to get it.
You can download it and save it without ever visiting us again (but we'd love you to)
You know you have old t-shirts that you never, ever wear. Let's do something with them.
What's the oldest t-shirt you think you still have?
Latest posts by AllFreeSewing
(see all)