Congrats to yesterday's winner, Sue Marie, on winning Day 9's daily giveaway! We will be in contact so that you can claim your prize.
It's Day Nine of National Sewing Month! Don't forget to visit Seams and Scissors every day to find daily giveaway opportunities and sewing ideas! To enter today's daily giveaway, find the contest rules and leave a comment below. Also look out below for details on how to enter our National Sewing Month grand prize that includes a BERNINA 215 Sewing Machine! Too see the daily blog posts, projects of the day, and more National Sewing Month details, click here.
Today's National Sewing Month post is brought to you by Virginia from Gingercake!
This corner of my sewing room is set up conveniently for work- I have my cutting table on the left, my computer, my sewing machines and finally my iron and ironing board all together for easy access.
I used to have my sewing room in our spare bedroom. I had a beautiful big window, a nice size closet for storage and plenty of room. When we decided to have our fourth child, the baby took over this great space. I was happy to redecorate for baby, but it was bittersweet since I was losing my special creative space. I decided to make do with a corner of the unfinished basement. Unfortunately this corner was dark and dreary no matter how many fabric curtains and carpet remnants I used, it always felt cold and dreary. Plus- in the late summer, I could actually hear crickets chirping in the basement with me and then one day, I moved a fabric bin (full of lovely colorful vintage fabric) and a toad jumped out at me. Yuck! I like toads but not mingled with my precious sewing supplies!
My cutting table is a mixture of a painted re-purposed dining room buffet, ply wood top, and ply wood side shelving. It is 4′ x 6′. I used a 4′ x 4′ piece of peg board to organize my tools.
So, I took out a modest home improvement loan and decided to make some improvements and invest in my own creative space. How is a person supposed to create beautiful things in such an ugly space?? The advantage I did have was a nice high ceiling (7′), dry concrete floors and plenty of space. So, I had a builder construct a wall to divide the space so it was not longer just one big room. He also put in a closet and a drop ceiling with bright lighting. My husband and I painted the walls yellow and put in laminate wood flooring.
My light tent is set up on a thrift store side table and placed between 2 metal grate racks. I use the racks for craft shows but they double here to hold clip on lamps to make my photos in the tent nice and bright.
One drawback of using my basement as my sewing studio is that I have no natural light. To help remedy this issue, my builder installed bright halogen lighting and I painted the walls a sunny yellow. I also set up a light tent area for product photography of small items such as Owl Pillows or crayon folios. Although photographing my sewn items with natural light is preferable, a light tent is a great area to take photographs when it's rainy (which is often in Pittsburgh) or you have to do your work in the evening (like many of us sewers with kids!).
For shelving, I stacked book shelves together and used a repurposed kitchen hutch on top of a brightly painted dresser. Inside the dresser are WIPs and finished extra Gingercake items.
I wanted to make sure that I could easily access my fabric and other sewing supplies so I have lots of open shelves where I display my stacked fabrics, notions and finished Gingercake samples. I organize my fabrics mostly by color and I simply used dollar store and upcycled plastic bins to hold my separate notions on the bottom shelves. I have to make sure I can find things easily when the creative bug bites!
This $10 thrift store chiffarobe was a good find to hide my big box of polyfil stuffing and other odds and ends.
I was happy to be as whimsical and fun as I wanted when decorating my sewing space. Bright colored walls, fun painted furniture, vintage sheet curtains, and paper lanterns were all required! My youngest is still home with me during the school year and a special play corner for her had to be included in the room. This corner can occupy her for an hour sometimes and sometimes only 5 minutes before she is under my feet again. It's also a great place to keep all my handmade softies so they don't get mixed in with all the big kid stuff upstairs!
My kanban board is a chalkboard that measures about 3′ x 4′.
A sewing friend of mine, Monica Donahue of Little Pigeon Crafts, introduced me to the idea of using kan ban to help organize your handmade business. I loved the idea of being more time efficient in such a simple way and made my own kanban board to use for Gingercake Patterns and Design. The main idea of kanban is to not only capture creative ideas and bring them to fruition, but also to view your progress. Many of us get caught up "in progress" and have trouble completing our best ideas. This visual board helps you to move through to the completion stage.
Although I would rather be sewing, I have to admit that about half my work time in my sewing room is spent on the computer. Pattern writing, editing, answering emails, and marketing are a really big part of my job. I am so happy to have my computer here in the middle of my sewing space! Right now I just use a fold out table as a computer desk and this table also doubles as my extra craft show table.
My best advice for creating a sewing space is to first of all, make sure you have a permanent space in which you are free to create. It may only be a spare coat closet but having all your sewing tools and materials in one area is essential to enjoying your sewing time. Also, make your space fun and personal. You may not like vintage sheet curtains and upcycled thrift store furniture, but incorporating things you love into your room will help inspire you. Also, storage is key to keeping everything organized!
I would have to say my favorite things in my sewing room are the bright lights, my big cutting table and my kanban chalk board. Happily, this room has gone from a gloomy unfinished basement to my very favorite room in the house! And best of all? No more toads.
Don't miss any of the gorgeous projects and ideas at Gingercake!
Also remember to check out the Project of the Day right here!
To enter the daily giveaway, leave a comment below telling us:
Is your sewing space ideal?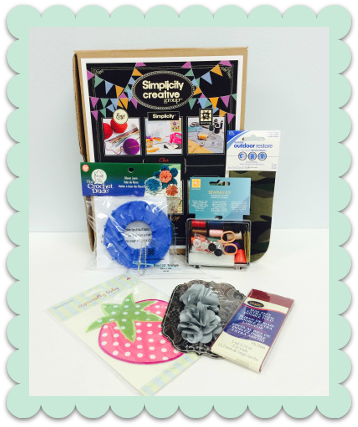 Official Rules for Daily Contest
There is a maximum of one entry per person. The entry will be based upon a comment left on this blog post. Duplicate comments will be deleted and are not tallied.
Winner will be selected at random from the comments on this blog post below.
You have until tonight, September 9th, 2014 at 11:59p EST to leave your comment on this post. Comments posted after that will not be counted.
Contest open to anyone 18+ in US and/or Canada.

Latest posts by AllFreeSewing
(see all)