Print This Post
Congrats to yesterday's winner, Patrice, on winning Day 25's daily giveaway! Congrats also to Wednesday's winner, Angela! We will be in contact so that you can claim your prize.
It's Day Twenty-Six of National Sewing Month! Don't forget to visit Seams and Scissors every day to find daily giveaway opportunities and sewing ideas! To enter today's daily giveaway, find the contest rules and leave a comment below. Also look out below for details on how to enter our National Sewing Month grand prize that includes a BERNINA 215 Sewing Machine! Too see the daily blog posts, projects of the day, and more National Sewing Month details, click here.
Today's National Sewing Month post is brought to you by Anorina from Samelia's Mum!
Butterfly Snack Mat
Measures 12" square
Pattern by Anorina Morris of www.sameliasmum.com
Materials:
12" square charcoal linen
Various fabric scraps for butterfly applique
3 ½" x WOF red solid (binding)
Double side bonding paper (eg Vliesofix)
Sewing Machine and quilting foot
General Sewing supplies
*Butterfly Pattern sheet available here: http://bit.ly/1uNirFT
*This is a Google doc; you will need to create or log into your gmail account in order to access this.
Method:
Print the butterfly pattern (from the link provided) and trace the small butterfly 12 times on to the paper side of the vliesofix.
Roughly cut the butterflies and press them with the glue side down, to the back of the various scrap fabrics.
Cut out the butterflies on the traced pencil line.
Remove the paper backing and arrange the butterflies on the top of the linen square. I decided on a circular layout but random placement would work well also.
Press the butterfly shapes with a hot, dry iron.
Lower the feed dogs on your sewing machine and using the quilting or applique presser foot, applique around the butterfly shape. Stitch close to the edge of the fabric without going over on to the linen.
View the YouTube video I created to show my process in this butterfly applique process: http://bit.ly/ZkZHE5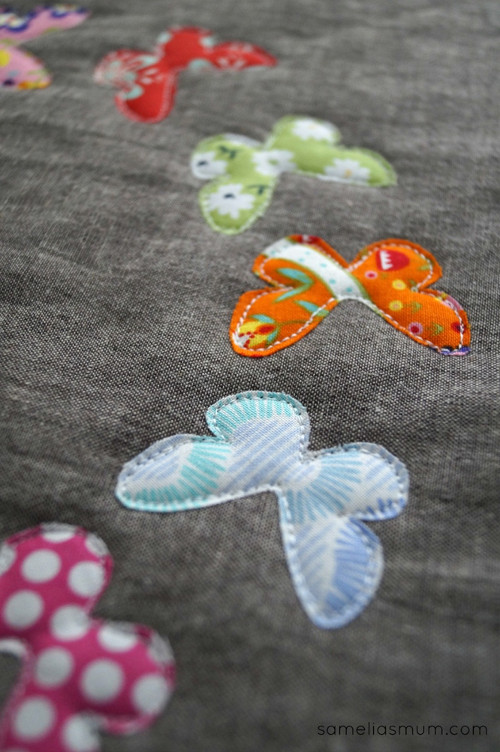 Binding
Cut the binding fabric into 2 strips measuring 1 ¾" x WOF.
Join the binding strips together end to end with 45-degree seams, then trim the seams and press them open.
** Starting about halfway along one side of the snack mat and leaving a tail for joining, sew the binding to the right side, mitering the corners as you go. Stop approximately 6" from the starting point, join the ends neatly with a 45-degree seam, trim the surplus and finish sewing the binding to the mat.
** I use between a 3/8" to ½" seam when sewing the binding as I like the look of the wider binding.

Don't miss all of Anorina's amazing projects at Samelia's Mum!
Also remember to check out the Project of the Day right here!
To enter the daily giveaway, leave a comment below telling us:
Be honest: is appliqueing easy for you, or too scary to try?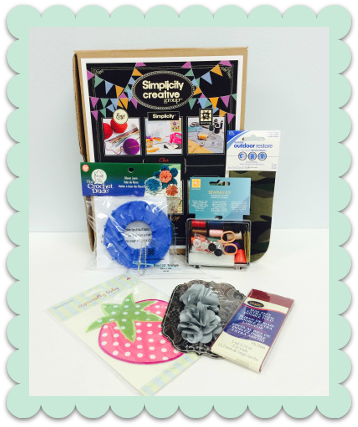 Official Rules for Daily Contest
There is a maximum of one entry per person. The entry will be based upon a comment left on this blog post. Duplicate comments will be deleted and are not tallied.
Winner will be selected at random from the comments on this blog post below.
You have until tonight, September 26th, 2014 at 11:59p EST to leave your comment on this post. Comments posted after that will not be counted.
Contest open to anyone 18+ in US and/or Canada.

AllFreeSewing is the ultimate resource for quick and easy sewing patterns, tutorials, and charts. You'll find dress and bag patterns, alteration guides, even instructions to help you with that pesky sewing machine. The best part? It's all absolutely free. Come and join our community!
Latest posts by AllFreeSewing (see all)
Print This Post