Sometimes you don't have a specific idea for a quilt, but you know you want to make it in a certain color. Check out these color combinations for some inspiration.
We've gathered up four of the most popular color schemes in quilting: fall colors, bright colors, grayscale, and rainbow. If you're feeling ambitious, make a quilt in each of the color schemes.
The great thing about working in a color scheme is that your quilt won't clash. Rather, you'll get a cute and cohesive quilt that's worthy of royalty.
These free quilt patterns are some of our favorites, so please let us know which ones you like the best in the comments below. Your comments are like e-hugs (and we love hugs)!
Fall Colors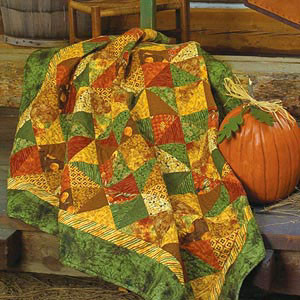 Fall colors make any quilt look rich and cozy. We love how red, orange, yellow, and brown instantly evoke a spirit of autumn. Bring on the foliage, fall!
2) Golden Autumn Jelly Roll Quilt Pattern
3) Grandma's Gorgeous Autumn Quilt
Bright Colors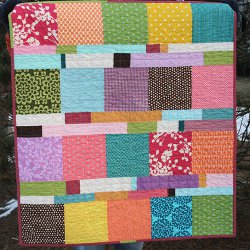 Bright colors give any quilt lightness and happiness. Pastel colors, in particular, are popular for baby quilts. If you need a pop of color for your home, then look no further than these free quilt ideas.
5) Blocks and Stripes Baby Quilt
8) No Fuss Grandmother's Flower Garden Quilt
Grayscale, Black, and White
Who doesn't love black and white? It's classic, clean, and basic. These patterns will look chic in any context. Try out one of these patterns to give your home a sleek vibe.
10) Eiffel Tower Hourglass Quilt
11) Bedtime Wall Hanging Tutorial
12) Easy Peasy Ironing Board Cover
Rainbow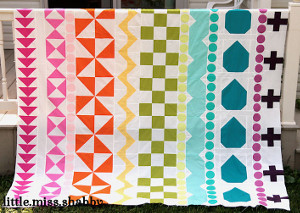 Rainbow quilts give your home a loving and friendly vibe.
13) Coolest Ever Rainbow Quilt
14) Rainbow Hearts Nine Patch Quilt
15) Inspirational Rainbow Heart Quilt
16) Rainbow Chevron Twin Bed Quilt
PLUS: Win the Quilt Show Board Game! 
Quilt Show is designed to appeal to the most fun aspects of quilting: choosing your patterns, assembling the template, and showing off the finished product. The twist is that in Quilt Show you are competing not only with yourself (to make the best possible block in your allotted time with your available resources—a dilemma all quilters are familiar with!) but also with the other players, all of whom are trying to make the best possible quilt blocks before the show.
Enter to win today! The deadline to enter is September 19th at 11:59:59 p.m. Eastern Time.
What Color Scheme Do You Usually Work With? Comment Below!
Latest posts by FaveQuilts
(see all)