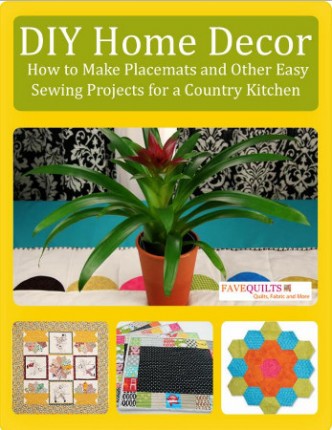 It's time to bring out the southern charm and hospitality in you, even if you don't live in the south. Harness that charm and use it to decorate your home with placemats, table runners, table toppers, and more by downloading our free eBook, DIY Home Decor: How to Made Placemats and Other Easy Sewing Projects for a Country Kitchen. This book is a pure delight for quilters and sewers everywhere that feel as though their table is lacking and the atmosphere just isn't quite right. There is a variety of patterns in each category that are sure to be perfect for your home.
To me, decorating with a country style immediately gives me feelings of home and comfort. That is exactly how people want all of their guests to feel in their home, so that no one seems awkward or out of place. Avoid any discomfort with friends and family at the dinner table by downloading this eBook full of vintage, rustic, and country chic patterns that will be sure to charm absolutely everyone.
If you're still not convinced that the southern charm is what you're looking for, then let me show you that it may not be exactly what you think. Check out a few of these sneak peeks to get a look at what's inside:
No matter what the design scheme is in your home right now, one of these patterns is sure to look stunning and perfect in your kitchen. Not only will you have a comfortable, charming kitchen and dining area, but you can also stop worrying about your dishes scratching up your nice wooden table and new countertops. You also get to show off those DIY skills that everyone will now notice you have by placing homemade decor all around your country kitchen. You can even be a beginner and still make some of these kitchen-ready projects.
Now's your chance to have the most perfect, homey-feeling kitchen of anyone you know. Download your free eBook to get started!
If you want to know even more about our DIY Home Decor free eBook, watch this short video below:
Tell us: Is your kitchen decorated exactly the way you want it to be?
Latest posts by FaveQuilts
(see all)