By now we've been seeing Christmas decor in just about every store since right around the time Halloween ended. I've been seeing some really cute holiday decorating ideas like throw pillows, dish towels, and Christmas bunting, but—maybe because they know we won't have it displayed for very long—all of it has seemed to be very poor quality, and since right about now is when most people start to decorate for the holidays the prices are high, too. I don't know about you, but I'm not a big fan of the idea of spending lots of money on a decoration that might not even stay together long enough to re-use next year! Fortunately, there's an easy solution—simply make your Christmas decorations yourself!
With a needle and thread and a little creativity, you can whip up these easy DIY Christmas decorations for your home just in time for the holiday season! You'll have a reliable decoration that can be brought out year after year, and best of all, many of these sewing projects can be made using fabric scraps that you already have lying around so there's no budget trouble, either.

DIY Christmas Home Decor: Our 15 Easiest Patterns
Table Decorations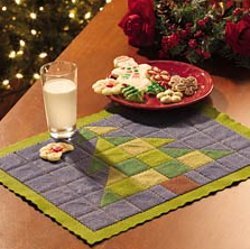 Dress up your table just in time for Christmas dinner with these DIY holiday table decorations. From placemats to table runners, you'll have your dining room looking festive in no time thanks to some easy sewing projects!
Stars of Wonder Christmas Mug Rug
Stashbusting Origami Christmas Mug Rug
Christmas Dinner Placemat
Quilted Christmas Table Runner
Festive Felt Placemats
Kitchen Accessories

If you're cooking this holiday season, these DIY kitchen accessories will make it a snap, and they'll look so cute around your kitchen.
Christmas Hot Pads
Ruffled Hanging Dish Towel
Decorative Christmas Towel
Merry Berry Christmas Napkins
Retro Christmas Dishcloths
Home Decor

And finally, the fun part —holiday home decor ideas. Whether you're looking to dress up your mantle or your bedside table, these easy sewing patterns will take your room from frumpy to festive!
Little Christmas Carolers
DIY Ric Rac Santa
Easy Fabric Poinsettia
Christmas Bunting Tutorial
One-Hour Yuletide Pillows
What's your favorite holiday decoration? Let us know below in the comments!
Latest posts by AllFreeSewing
(see all)