There is one thing for every person that they can't seem to get enough of. For me, it is shoes. I have so many pairs of shoes stacked in my closet. You can't tell me that I don't wear them all, because I do wear them all. There are high boots, black and brown, ankle boots, winter heels, summer wedges, formal occasion, flats, nice sandals, Ked's, and multiple pairs of gym shoes. There is a shoe for every occasion. The same goes for your home decor. You decorate according to what season it is. I use darker, warm colors for the fall and winter months, while spring and summer are bright pops of color (I have a neutral-color setting as a base). Why should your kitchen decor be any different?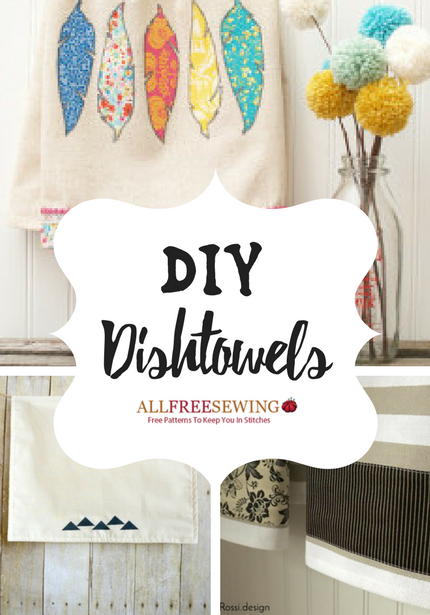 We need to show a little love to our kitchens. Besides matching paint colors and tile, there isn't much to do to only temporarily decorate. I mean, you can litter your counters with seasonal crafts, but you need the cooking space, first and foremost. So what is something that you can make plenty of, but still easily switch it out? Homemade dish towels, of course! These DIY dish towels would look great hanging on your oven or fridge and they are easily swappable for any season or holiday. My favorite thing about hand towels is that you always need them, and you will always use them.
This is a great go-green option for getting rid of paper towels. Instead of wasting money month after month on non-replaceable towels, just make these easy sewing patterns and you will save yourself a ton of money in the long run by simply washing the towels. You will also get to pick your favorite fabric and patterns that will match and complement your kitchen! Get rid of those plain dish towels and quit spending money on paper towels because making your own gives your kitchen the seasonal spark it has been craving to match with the rest of your home decor.
Unlike my shoes, dish towels won't take up too much drawer space in your kitchen. So if you start to become addicted to making these easy dish towels, you won't have to worry about where you will put them.
Easy Dish Towel Patterns
Stay Put Kitchen Towel Tutorial
Matching Towel and Hot Pad Tutorial
Shabby Hearts and Ruffles Dish Towel
What are your favorite home decor colors?
Latest posts by AllFreeSewing
(see all)