Hey everyone! Katie from Punk Projects here! Today I wanted to share with you guys a tutorial for making this felt apron. Fruit is all the rage right now in both the crafting and fashion world—watermelons, pineapples, citrus slices, etc. I created this apron to look like both a watermelon slice and a grapefruit slice. Yep, it's reversible!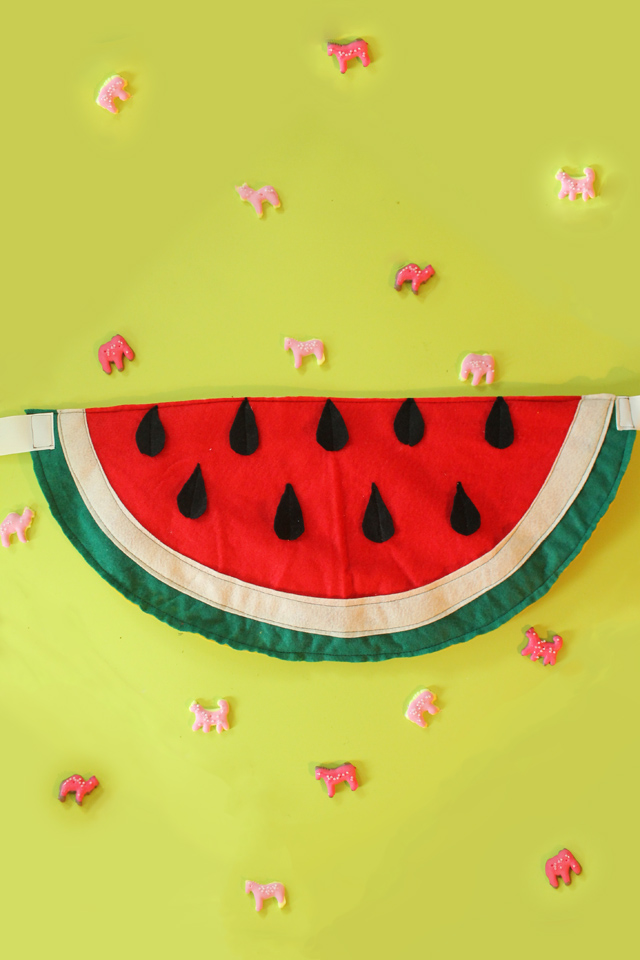 Supplies needed:
Felt – You will a 1/2 yard of each color to have larger pieces. For the watermelon you will need red, white, green and black felt and for the grapefruit you will need yellow, white and pink felt.
Sewing Machine
Pins
Marker
Scissors
1″ Wide Ribbon
Start by cutting out a half circle shape from green felt in the size you want your apron. Mine is 24″ wide by 10″ tall. You will also need a smaller half circle of red and white. For the white you can just cut out a 2″ wide half circle border as I did.
2. Stack your watermelon pieces together, pin, and sew along the edges of the red and white felt curved sides.
3. Cut out 9 2″-long "teardrop" shaped seeds from black felt. Pin them onto the front of the watermelon and sew them onto the apron. You can either stitch around the inside edges or just run a stitch down the middle.
4. Next you need to make a second fruit slice for the back of the apron! I chose a grapefruit.
Do this in much the same way as the watermelon, making sure to cut the base half circle the same size as the watermelon slice.
For the grapefruit, I cut a white half circle and then some wedges from pink felt and stitched them on top.
5. Place your 2 fruit slices with right sides out. Pin them and stitch around all the edges.
6. Next you will need to decide what length you want your straps., long enough to comfortably tie around your waist. Cut 2 pieces of ribbon to that length. Stitch each one to the sides of your fruit slice apron!
And you're done! Now you can wear whatever fruit you wish while you are baking cookies or working in the kitchen! Or you could make it a crafting apron!
What fruit slices would you choose? Watermelon and Grapefruit? Lime and lemon? Let us know in the comments!
Latest posts by Katie Smith
(see all)