Hi there! I'm Katie from Punk Projects! I'm here today sharing with you guys a fun tutorial for making these fruity bags!
It is full on Summer here in the northern hemisphere and I've been loving it! One of my most favorite things to do in Summer is to spend the day outdoors at the lake and we always bring a watermelon along! Yum! But not only are they tasty, but fruit icons are also a HUGE trend this year!
Pineapples and citrus are everywhere and I've been seeing more and more watermelons popping up in DIY projects, decor trends, patterns, etc. So, I made these fun watermelon shaped pencils bags to use!
You can whip up 1 of these in just an afternoon and you will be all set for Summer!
Supplies:
Half Circle Pattern
2 Sheets of Green Felt
2 Sheets of White Felt
2 Sheets of Red (or yellow or pink!) Felt.
1 12″ Zipper
Black Embroidery Thread & Needle
Sewing Machine
Note- I made 2 of these pouches, 1 in red and 1 in yellow, so you may see twice as much felt in the photos than what you need for 1.
Step 1.  Use the half circle pattern to cut out your pieces of felt. You'll need 2 of each color- green, white, and red, with the green being the largest and the red the smallest.
Step 2. Use black embroidery thread to embroider "seeds" onto the red pieces. I used a satin style stitch, There is a great tutorial for that on Wild Olive here.
Step 3. Stack your felt watermelons up and pin. Use your sewing machine to stitch through the felt layers, stitching just along the inside edges of the white and red pieces, as pictured below.
Step 4. Cut the zipper to the length of the bag, making sure not to cut off the zipper pull.
Next cut 2 1″ tabs of felt. These are going to go on the ends of your zipper to give it finished edges.
How: Place a felt tab on on end of the zipper and stitch on both sides. Repeat on the opposite end, making sure the zipper pull is in between the 2 tabs.
Step 5. Place the zipper right side down onto 1 of the watermelons and pin. Stitch along the top edge with a 1/4″ seam allowance.
Step 6. Repeat with the 2nd watermelon piece by lining up the opposite edge of the zipper with the 2nd watermelon piece and stitching along the edge with a 1/4″ seam allowance as well.
Remove any pins and open up the bag. You should have a circle/oval with a zipper in the middle, as pictured below.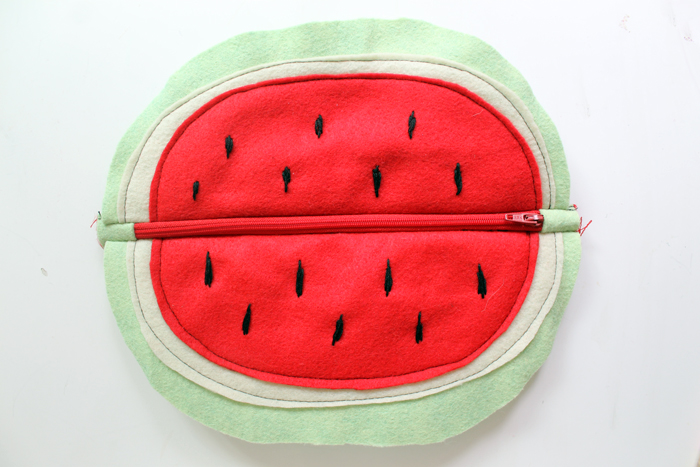 Step 7. Fold the watermelon in half with the right sides together/wrong side out. Make sure the zipper is unzipped about halfway(this is where you will flip the bag right side out.)! Pin the bag so it doesn't move and stitch around the curve with a 1/4″ seam allowance.
Once sewn, Cut a few little triangles along the bottom curve, being sure NOT to cut through/past the seam you just stitched. These are so that when you flip the bag right side out, it won't be lumpy along the curve.
Step 8. Flip the bag right side out and you're done!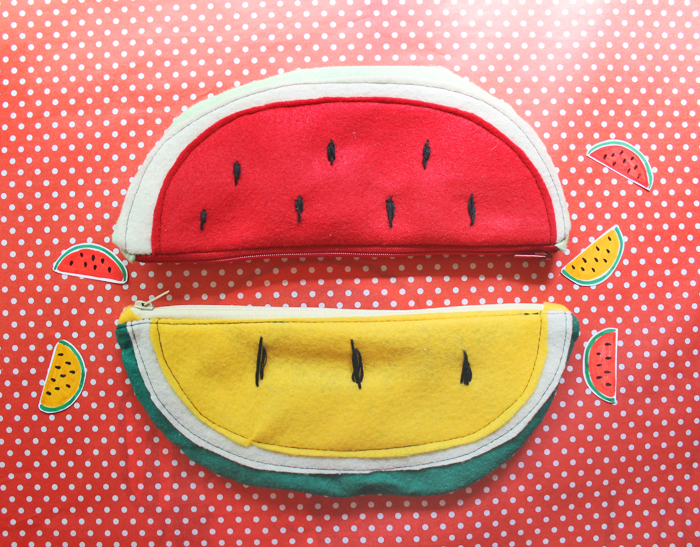 This pattern could easily be customized to other fun things- Orange slices? Lemon wedges!  How fun would those be? I'm going to use one of these pouches to store a few extra pencils and art supplies that I can take on the go (and look cute with my watermelon bag) but these could be used to hold much more than pencils!
What would you put in these?
Latest posts by Katie Smith
(see all)