Would you like an inexpensive and easy way to decorate your table for Easter? Creating holiday placemats is a lot easier and cheaper than you might think. Easter takes place during the springtime. It is a holiday that takes joy in renewal and celebrates rebirth. Why not let your tablescape reflect these feelings so that your family feels extra cheerful when you sit down to enjoy a meal together. Especially when this easy sewing project can be made in one afternoon.
1. Decide on a shape
Do you want to make these placemats in the shape of an oval or do you want them to be rectangular? You can use an existing placemat as a template, or you can even sketch one out on paper. For this example, I used an oval placemat that I already own.
2. Select Your Fabric
You will also need to select some fabric for your new project. For this placemat, I used two different 100% cotton fabrics. One is a print of Easter Eggs and the other is a solid Green. I recommend getting fabric that is at least 18 inches wide and long.
3. You're Ready to Sew!
1. Press the fabric so it is free of wrinkles.
2. Lay the two fabrics with right sides facing each other down on your work surface. Using your chosen template, you can trace around the template with a sewers chalk or a plain pencil. Note: you will be marking on the wrong or hidden side of the fabric.
3. Make an additional marking going around the outside of the template at about 1/4 to 1/2 inch. Another easier way to do this is to take three pencils and bundle them together with an elastic. This will let you trace around your template to create your sewing line and create your cutting line.
4. Cut along the cutting line. Keep the two layers together and pin to keep them together. Leave an opening on one straight side, about 3 to 4 inches should do.
5. Stitch along the stitching line, remembering to leave a section open. Clip the corners or curves to make turning the placemat right side out.
6. Turn the pouch you just sewed right side out. At this point, you can finger press that opening and hand stitch it close or give it a quick press with the iron and then top stitch with the sewing machine about 1/4 to 1/8 inch from the edge all around. Press again if you want.
4. Set your table!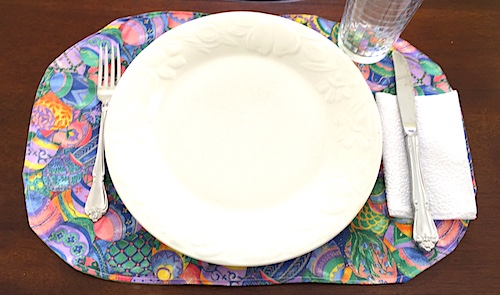 Would you make these placemats for your Easter meal?
Latest posts by Ann Strecko Koeman
(see all)