The sun is shining, and the weather is perfect. Embrace it while it lasts, ladies. Picnics are a great way to get outside and enjoy your local park or garden. You might be surprised that the Vitamin D from the sunshine actually has positive effects on your health and well-being. The most important ingredient of a picnic isn't the food, though. It's the picnic blanket! A picnic becomes infinitely more enjoyable when you make it yourself, with tender love and care.
That said, we've rounded up 11 Easy Quilt Patterns for a Perfect Picnic Blanket. These ideas are so cute, you'll probably make more than one. (Don't worry, you can thank us later!)
Scrap Quilt Patterns
Are you ready for some scraptastic fun? These free quilt patterns will let you use up fabrics you've either been saving or trying to get rid of. Have fun with color. A bright picnic blanket is absolutely lovely.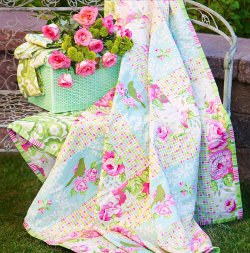 1. Garden District Picnic Quilt
3. Kaleidoscope Pinwheel Quilt
Star Quilt Patterns
Half triangle quilt blocks are so easy and fun to work with. Starry quilt designs are a great way to step up your quilting game. Some of these quilts can transition from picnic quilts to bed quilts, too.
1. Bright Stretched Stars Throw
3. Flying Squares and Stars Quilt
Trending Right Now: Hottest Picnic Quilts
These quilts have been all over the Internet. We wanted to share them because we think they're too cute to pass up. Can't you picture yourself eating bread, brie, and wine on these quilts?!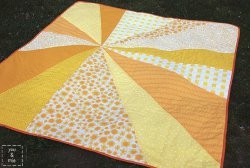 1. Sunburst Picnic Blanket
3. Seaside Chevron Picnic Quilt
What Are Your Picnic Necessities? Comment Below!
Latest posts by FaveQuilts
(see all)