Is it a dream? No it's just another fabulous dream-come-true in the crazy, mixed-up world of sewing. We're talking about an offer that is positively astounding. Want to know what it is?
AllFreeSewing is pleased to host the 500 Designs CD Collection giveaway from EmbroideryOnline.com. This exclusive offer gives you the chance to win $500 worth of embroidery designs from, let's face it, people who know embroidery.
I love this giveaway because I every template in this collection promises incredible results. There are so many ways to embroider ready-made items as well as handmade ones. Take this pillow donated from Laura Kelly for our Hands-on-Heart Breast Cancer Pillow Drive, for example.
A few basic stitches on this pillow convey a powerful sentiment that might otherwise be missed. Whether you're looking to spell something out or add an image to your decor, the 500 designs included in this CD collection are well worth exploring.
When you have your hands on this amazing collection of embroidery designs, you'll find an array of subject types that acknowledge holidays (including major up and coming ones), seasons, animals, religious themes and so much more. Take advantage of the different alphabet styles in here so that you can write a special message to someone you love.
A seemingly medley of template types, this CD collection will appeal to your tastes no matter how far-out they are.
So, what should you do?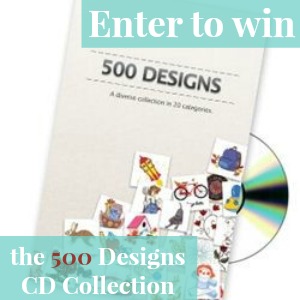 It's not rocket science! We wish everyone could win, but given the absolutely attractive nature of this giveaway not everyone will. Enter once a day, every day until November 15th to get your hands on this collection.
Do you know how to embroider?
Latest posts by AllFreeSewing
(see all)