Everyone's talking about charm pack projects in quilting.
If you're new to charm packs, your first instinct might be to think of Lucky Charms (the cereal). At least that's what I did.
But charm packs are little nuggets of amazing-ness in the quilting world. A charm pack is basically a package of pre-cut 5″ quilt blocks that you can buy at any fabric store. Sewing with charm packs saves you a lot of time because you don't need to cut out your own quilt blocks. Charm packs are also fantastic because the package comes with a variety of fabrics. When you buy by the bolt, you might waste a bunch of fabric. With charm packs, though, you'll be efficient and eliminate waste.
This blog post features the best ever 13 Enchanting Charm Pack Projects. After you finish, you'll find a little pot of gold in your heart.
Light and Bright Charm Pack Quilts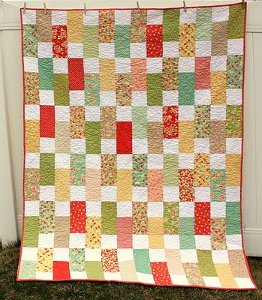 See what the fuss is about with these easy charm pack quilts. With charm packs, 75% of the work is already done for you. What a piece of cake!
1. Simple and Sweet Bricks Quilt
3. Sweet Sew and Tell Charm Quilt
4. Framed and Mini Framed Quilts
5. Pez-O-Rama Queen-Sized Quilt
Link Love: Charm Pack Quilts for Baby
These bloggers have awesome ideas for baby quilts. We love reaching out to dedicated quilters in the community because it reminds us why we love quilting so much. Check them out! These quilts are definitely drool-worthy.
1. Prim and Preppy Baby Quilt by Kellie
2. Lucky Charms Baby Quilt by Amy
3. Baby Boy's Tetris Charm Pack Quilt by Allison
4. Colors of the Rainbow Baby Quilt by Rebecca
5. Honk, Honk Charm Pack Baby Quilt by Jera
Link Love: Cool Charm Pack Ideas
Sometimes you don't know what to make. We totally get it, and don't sweat it. These cool charm pack ideas will inspire you to infinity and beyond. These bloggers are so hot right now, too.
1. Pretty Patchwork Charm Pack Skirt by Melissa
2. Showstopper's Charm Pack Quilt Bag by Teresa
3. Children's Charm Pack Apron by Mary
4. Mini Charm Pack Baby Bib by Jana
What Charm Pack Projects Have You Worked on Lately? Comment Below!
PLUS, if you're looking for some new reading material, we have just the book!
In this novel by Sandra Dallas, a semi-prequel to her New York Times Best Seller The Persian Pickle Club, Eliza Spooner makes a quilt for her husband, Will, who's fighting for the Kansas Volunteers. But much like an old patchwork quilt, Eliza's life soon begins to come apart at the seams as she takes in a vulnerable woman and her child and is asked to harbor an escaped slave. With no word from Will, Eliza must decide her own heart and mind, and whether or not to take a stand. In times like this, where else is a woman to turn but the trusted women of her quilt group?
This book is wonderful for quilters and non-quilters alike. It's the story of love, of friendship, of bravery—and, of course, of quilting. Win yours today!
Latest posts by FaveQuilts
(see all)