Today we are bringing you a pair of handy infographics that are perfect for the quilters out there.  First, learn 10 ways to cut a fat quarter, so you won't waste a single scrap of that coveted piece of fabric.  Just in case you have ever wondered "how many squares can I cut from a fat quarter?" you'll never have to wonder anymore.
10 Ways to Cut a Fat Quarter
Six 6.5″ squares
Nine 6″ squares
Twelve 5.5″ squares
Twelve 5″ squares
Sixteen 4.5″ squares
Twenty 4″ squares
Thirty 3.5″ squares
Forty-two 3″ squares
Fifty-Six 2.5″ squares
Ninety-Nine 2″ squares
Have you ever wondered about those pre-cut bundles of fabric that you see at the store?  Use this free printable explain everything for you.  Print it out and you'll always have the information handy.
Fat Quarter
Purchased either individually or as a bundle of coordinating fabrics, a fat quarter is 18″ x  1/2 Width of Fabric
Fat Eight
A fat eighth is HALF of a fat quarter.  9″ x  1/2 Width of Fabric
Charm Pack
A bundle of coordinating 5×5″ squares, ready to go for piecing that quilt.
Jelly Roll
This is a roll of fabric (sometimes folded, depending on the manufacturer) cut 2.5″ x Width of Fabric.  Many coordinating fabrics are combined, making this a great deal for a quilter who wants variety.
Layer Cake
For those who need versatility in being able to choose the size of your cuts but still want the variety that a fabric bundle offers, this bundle of 10×10″ pre-cut fabrics is for you.
Each of these images, when clicked, will open in a new window, ready for you to print and pin up next to your cutting table, so you'll never forget everything you need to know about pre-cut fabrics.
What size pre-cut do you use most often?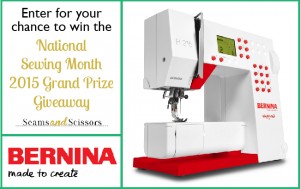 Enter daily for your chance to win the National Sewing Month 2015 Grand Prize Giveaway.
Latest posts by AllFreeSewing
(see all)