Today's post in our series on precuts is all about fat quarters! Fat quarter precuts get their name because they're pretty wide – they're typically about 18″ by 22″ or so. These precuts are great because they give you a lot of fabric to work with and, since they're longer on one side, they allow for more versatility in what you use them for. You can cut them in half to get a fat eighth or use them as one piece for a quicker quilt!
Whether you've got a few fat quarters on hand or want to learn how to sew a quilt for the first time, these 10 free quilt patterns are what you need. Check them out below – there's a quilt for every occasion!
We ♥ Precuts: 10 Fat Quarter Quilt Patterns
Refracted Light Fat Quarter Quilt – The unique geometric design of this quilt is sure to catch the eye.
Brick Pattern Fat Quarter Quilt – A great quilting pattern for beginners, there's not much cutting and piecing involved in this project.
His and Hers Bed Quilt – No more arguing over what color to make the bedspread – you can each pick your favorite!
Ombre Baby Quilt Pattern – This gorgeous baby quilt would make an amazing gift for any new parents.
Afternoon Six and a Half Dozen Quilt – As the name suggests, you can put this quilt together in just an afternoon!
Fabulous Fat Quarter Baby Quilt – This quilt isn't very large, so you'll have fabric left over to use for future sewing projects.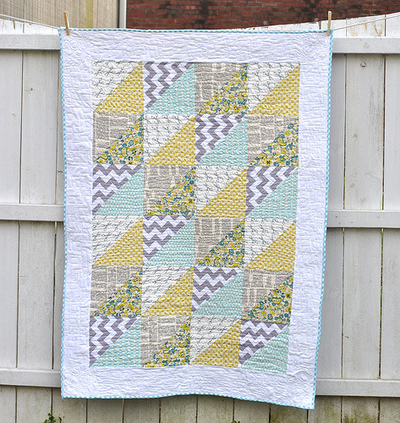 Quick Triangles Baby Quilt – You could easily make this baby quilt in an evening, and it's so cute, too!
Fat Quarter Double Irish Chain – The bright colors really make this design pop!
Tifton Tiles Fat Quarter Quilt – You'll need nine fat quarters to make this garden-inspired quilt.
Nostalgic Fat Quarter Quilt – A lovely, rustic quilt that brings back memories of a simpler time.
Do you like working with precuts?

Latest posts by Seams and Scissors
(see all)