Helen Draper is known for her intricate quilt designs and easy to follow tutorials. A passionate quilter since the '90s, Helen's expertise has been a great benefit to FaveQuilts' readers, as her designs are consistently among the most popular.
1. What first drew you to quilting?
Ever since I was in the first grade I have loved to sew. In the early 90's some of my friends were making quilts but I wasn't very attracted to them until I changed jobs and walked past a patchwork store on the way to work. There was a heavily hand-quilted Double Wedding Ring quilt in the window and I fell totally in love with it. The colors were subtle and the quilting superb. The quilter of this quilt became my patchwork teacher and the rest is history.
2. What do you think categorizes most of the quilts you make? What types of patterns are you typically most attracted to?
My quilts are usually based on traditional blocks but I love to use the colors and the fabrics to make them special.  Quilts that are heavily quilted always appeal to me. My personal belief is the quilting makes the quilt.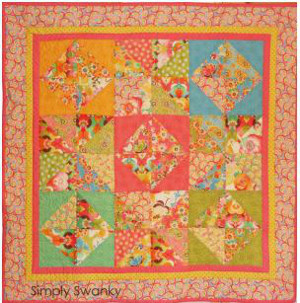 3. What advice do you have for quilters who are on the verge of (or nervous to) take the next step, from easy to intermediate/advanced quilting?
My advice would be that once you take this step you will find your own style and make your own design and color decisions. When we first start out we usually follow someone else's pattern and color choices. Be bold and let your personality shine through your quilt.
4. When you set out to design a new pattern, what are your first steps?
It always starts with the fabric for me. The fabric will dictate the style and the size of the blocks.
5. From where do you draw inspiration?
Again, the fabrics will inspire but I also enjoy seeing at what other quilters are doing.
6. Do you make your patterns on a computer, by hand, or by some other method?
Always on the computer (EQ5 and EQ7). I also use this program to create the my quilt pattern's diagrams.
7. What's the greatest or most helpful "quilting secret" you've learned or created during your years of quilting? (For example, a trick to cutting half-square triangles, the key to mastering free-motion quilting, etc.)
Love your pins! Use good quality, sharp, straight pins. Match the seams and pin them before you stitch.  For perfect points every time I love Clover Fine Pins.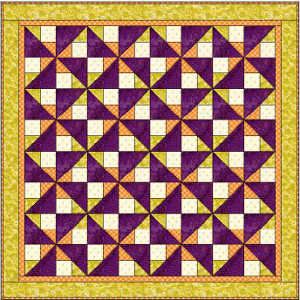 8. Do you have a favorite quilt that you've made? Or one that you've seen, that you wished you designed?
It's funny you should ask, because this week I wrote a blog about choosing a favorite quilt. My newest quilt, Moon Shadow is my favorite. I love it for it's simple shapes and lines. The Drunkard's Path blocks, combined with oriental-style fabrics and the half-inch quilting lines, reminds me of the Moon Windows in Japanese gardens.
9. What is your favorite part of the quilt-making process?
Hand quilting!
10. And now the big one! A newbie quilter approaches you in a café and says, "I don't know if I really want to start quilting. Can you give me three reasons why I should?" What reasons do you give him or her?
Only three? I have lots reasons!
Being creative is therapeutic. The cares of the world disappear and it is good for the soul.
Quilting is sociable. You will make lots of like-minded friends. Sometimes there is cake.
Learning new skills keeps you young.
You can express yourself. The real you will always shine through in your quilts.
Your time spent on earth will be remembered by the quilts you leave behind.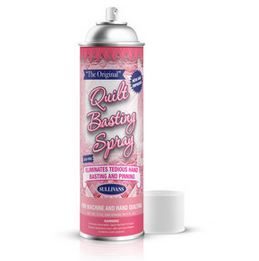 PSSST!!: Win The Original Quilt Basting Spray from Sullivans USA! The deadline to enter is November 13th at 11:59:59 p.m. Eastern Time.
"The Original" does in ten minutes what would otherwise take anywhere between thirty minutes to an hour. The spray binds quilt batting to the top layer and lining of your quilt without the hassle of pins. Best of all, the non-permanent bond allows quilters to reposition the fabric as necessary; once you're satisfied that everything is lined up, steam lightly with an iron and the quilt is good to go! Enter to win!
Latest posts by FaveQuilts
(see all)