Karin Jordan is one of FaveQuilts' most prolific quilt designers. Hardly a week goes by that she isn't submitting some new amazing design, from baby quilts to home decor.
Karin's tutorials are clear, easy-to-read, and beautifully photographed. As a perennial favorite on the site, we asked her a few questions about her experience as a quilter and designer.
1. What first drew you to quilting?
While it might be partially genetic, for years I'd felt that quilting was an inevitability. I've always loved fabric and textiles, and I enjoy designing and creating things. It was a circuitous route that led me to actually begin quilting, but once I started, I realized that I could utilize many of the skills I'd learned along the way to design and make quilts. While studying Art History in college, usable forms of art always attracted me. I guess I'd have to say that tradition, modern art, the tactile nature of fabric art, the usability of quilts and the wonderful community of quilters is what enticed me to focus on quilting.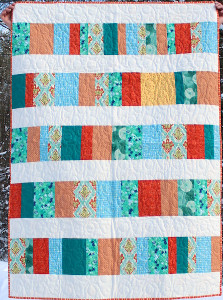 2. What do you think categorizes most of the quilts you make? What types of patterns are you typically most attracted to?
I gravitate toward quilts that are fun and cheerful. I love unexpected but successful juxtapositions of color, and quilts that are surprisingly simple yet effective. I go back and forth between making quilts that have a regular pattern—which is part of the reason I enjoy paper piecing—and quilts that appear random but are balanced in terms of color and value.
3. What advice do you have for quilters who are on the verge of (or nervous to) take the next step, from easy to intermediate/advanced quilting?
Just take a deep breath and do it. There's always the seam ripper! I joined two quilting bees, knowing that I would be encouraged to make blocks that were outside my comfort zone. I had the opportunity to create a single block instead of committing to an entire quilt, and I there was the support of the rest of the people in the group who were working on the same block.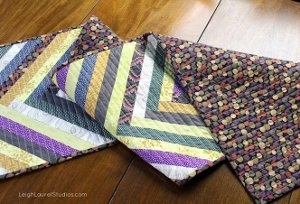 4. When you set out to design a new pattern, what are your first steps?
Sometimes I have a color scheme in mind and I pull fabric before I create a design, and other times I have a design or theme in mind and work on the pattern before I choose colors and fabric. If I pull fabric first, I tend to leave it out in my studio for a few days so I can think about what I want it to do.
5. From where do you draw inspiration? 
Everywhere. I studied modern Art History in college, so that is always a good idea source. My kids are creative, and I am inspired by their art and how they see and translate their thoughts onto paper. I'll see color combinations in nature that spark an idea. I currently have a pattern in the testing phase; I wanted to allude to a sliced watermelon in an abstract way to give the feel of the watermelon without actually depicting one.
6. Do you make your patterns on a computer, by hand, or by some other method?
Both. Sometimes I use colored pencils and graph paper to sketch variations of a design before putting it into EQ7. I usually go straight to the computer when I have a particular fabric line I'm working with, or want to create a paper pieced pattern that I've roughly sketched out in my head.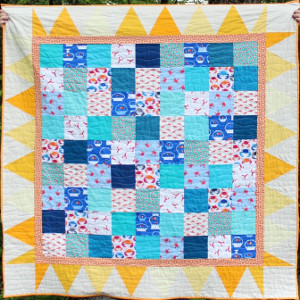 7. What's the greatest or most helpful "quilting secret" you've learned or created during your years of quilting? (For example, a trick to cutting half-square triangles, the key to mastering free-motion quilting, etc.)
Other than keep going, even when you don't think it's going to work, I'd say that I waste more fabric when I try and be conservative with my cutting. Being too thrifty often leads me to create more waste because I wind up needing to recut fabric properly.
8. Do you have a favorite quilt that you've made? Or one that you've seen, that you wished you designed?
My favorite quilt that I've designed and made is the one inspired by a sliced watermelon that I mentioned earlier, called Fruit Ninja. It's the largest paper pieced project that I've created, and I feel that it's taken me to a new level in my design process.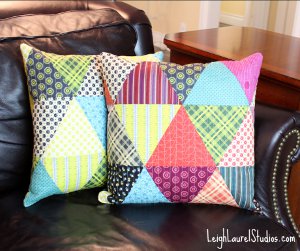 9. What is your favorite part of the quilt-making process?
I love the moment when inspiration strikes and I have to get it down on paper right away. It's so exciting when I sketch out my idea and I realize it's going to work, and then when I start sewing it together and I know I'm going to like it. That's so much better than going through the design process and winding up not being thrilled with my design and wondering what needs to be tweaked!
10. And now the big one! A newbie quilter approaches you in a café and says, "I don't know if I really want to start quilting. Can you give me three reasons why I should?" What reasons do you give him or her?
Have you seen the t-shirts that say, "I quilt so I don't kill people"? It's a wonderful and therapeutic creative outlet, there's a lovely community of quilters out there who will understand your fabric obsession, and if you even have an inkling that you might like it, you'll never know unless you give it a shot!
What are your top 3 reasons to become a quilter?
Latest posts by FaveQuilts
(see all)