Melanie Rudy is one of FaveQuilts' most exciting and well-spoken quilt designers. An alumna of Olds College in Alberta, Canada, where she specialized in Fashion Design with a Sewing Major, Melanie's tutorials are clear, fun, and innovative. You never know quite what to expect with Melanie's new posts—and that's the way we like it!
1. What first drew you to quilting?
In 2007 I was living in a very small town (population under 500) in Saskatchewan, Canada.  There was a quilt group that met every week.  Knowing that I sewed, one of the ladies asked me if I would like to join them.  I said "yes!" and was bitten by the bug.  This group is called "The Laporte Quilters".  They meet in the same small hall for a full day once a week year-round, where they can leave their sewing machines.  They laugh and have fun.  They take breaks to visit, having wonderful tea time sharing their homemade treats.   Their use of this hall has kept it going and funds its expenses.
2. What do you think categorizes most of the quilts you make? What types of patterns are you typically most attracted to?
I would consider myself a modern colorist quilter.  I love to improvise and am attracted to asymmetrical and on-purpose-uneven quilts.  I like the challenge of dealing with scraps and odd sized fabrics, coordinating colors in new and beautiful palettes.
3. What advice do you have for quilters who are on the verge of (or nervous to) take the next step, from easy to intermediate/advanced quilting?
Be confident – you can do it!   With further thought…if it doesn't turn out it is still wonderful scrap fabric for another quilt.  There will be no waste and you will learn something along the way.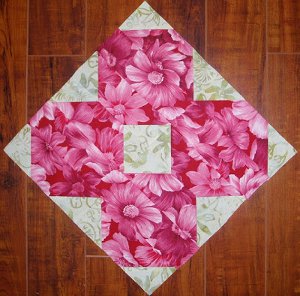 Take classes for a quilt or technique that you would like to make.  For the expense of a class you will gain knowledge and learn techniques that will be with you from here on.  I advise classes for experienced quilters also as there are so many new techniques and helpful ideas that can help you improve and enjoy quilting even more.
4. When you set out to design a new pattern, what are your first steps?
Typically, this starts with a hand drawing.  I am always coming up with new ideas and have scraps of paper with drawings all over my house and sometimes in my purse.  Currently I am fascinated with the "string quilt" concept and have 3 new designs scribbled on paper.  Watch for some new blog posts soon.
5. From where do you draw inspiration?
Color and nature are strong inspirations for me as well as the fabric I have on hand.  I love flowers and am proud of my new design "Wildflower Improvise" which was inspired by color, nature, and my large scrap bin (it started as a grocery bag – scraps collect quickly).
6. Do you make your patterns on a computer, by hand, or by some other method?
My patterns tend go from a drawing, to fabric on a cutting board, to my sewing machine, to photos.  Sometimes this process creates successful designs and sometimes additions to my scrap bin.  The photos and instructions are then worked on my computer before being posted to my blog.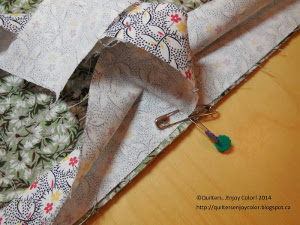 7. What's the greatest or most helpful "quilting secret" you've learned or created during your years of quilting? (For example, a trick to cutting half-square triangles, the key to mastering free-motion quilting, etc.)
I strive to simplify sewing methods.  My "3 Pin Binding Join" is fabulous.  Please enjoy this! It's so easy, accurate, and time-saving.
8. Do you have a favorite quilt that you've made? Or one that you've seen, that you wished you designed?
I love the improvised quilts that were created when I did my post on Warm & Cool Colors.  These are wonderful quilts that show you what can be done with a scrap bin and some very basic color knowledge.  These are cozy quilts that I use often.
9. What is your favorite part of the quilt-making process?
I love the piecing process, especially in an improvising way.  It's fun and creative and can be very meditative as the sewing machine hums in its perfect way.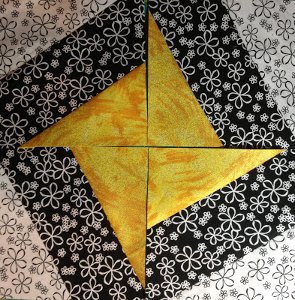 I am practicing and getting better at free-motion-quilting and also enjoy this process.  It is very interesting as the stitching adds another dimension to the design of the quilt.  I am stitching a "Round Robin" quilt right now that I worked on with my guild in Calgary, AB.  I am eager to start on the "Wildflower Improvise" stitching in leaves and vines.
 
10. And now the big one! A newbie quilter approaches you in a café and says, "I don't know if I really want to start quilting. Can you give me three reasons why I should?" What reasons do you give him or her?
Fabric feels so good!
A new sewing machine!
You will be introduced to a lifetime of skill and wonderful friendships that you will make along the way, while becoming part of the tradition of quilting.  Join us and enjoy!
What's the best piece of quilting advice you've ever gotten?
Latest posts by FaveQuilts
(see all)