Hey everyone! Katie from Punk Projects here! Today I wanted to share with you guys a really cute project: a Drawstring Bear Bag! This is perfect to make for kids any time of the year, but I think he's especially adorable for Valentines!
Supplies needed:
1/2 yd of Fleece in your desired color
Felt in black, white and desired color for the heart
Sewing Machine
Pins
Scissors
1/4″ Wide Ribbon
Safety Pin
Instructions:
1. Start by printing the pattern and cutting out all of the pieces. The arms, legs, and ears are all from the same fleece you will use as the body, and the heart and face is from felt.
You'll need 1 heart, 4 arm pieces, 4 leg pieces, 4 large ears, 2 small inner ears, 1 heart, 1 snout, 1 nose and 2 eyes.
2. For the ears: Start by stitching the inner (smaller) ears to a layer of the larger ear pieces, and then place them right sides together with the other large ear pieces. Stitch around the curves and flip right side out.
For the arms and legs: Pair up 2 of the pieces and stitch around the sides and curves, leaving the bottom open. Flip right side out. Repeat so that you end up with 2 arms and 2 legs.
3. Stitch the nose to the snout. You can add a mouth if you want to.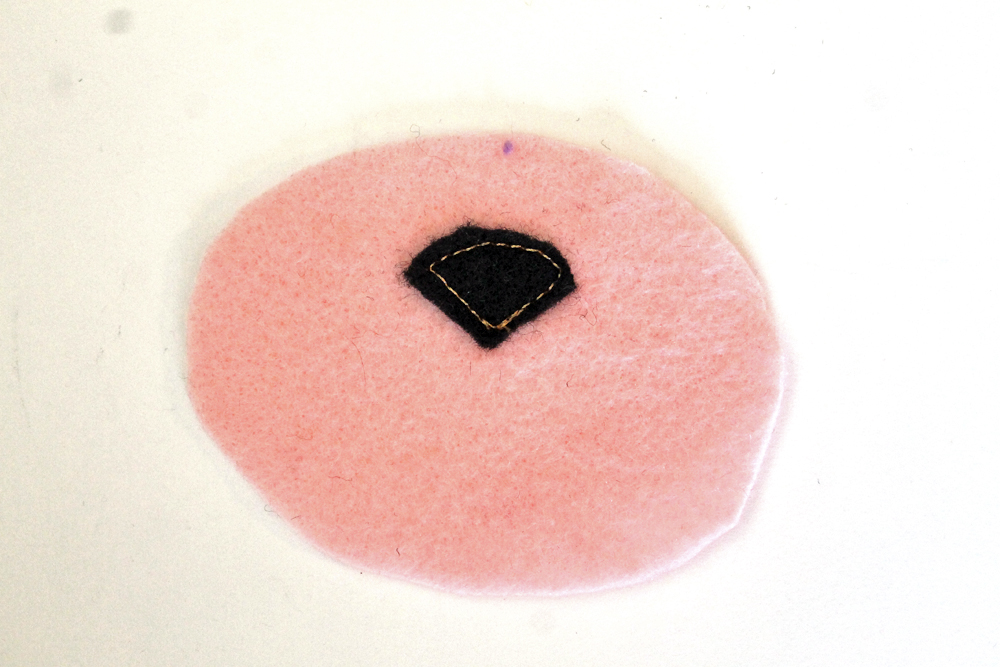 4. Cut a piece of fleece that is 10″ x 26″. This will be the base of your bag.
Pin the face and heart to the front (top half) of the bag base.
5. Stitch the face and heart down.
6. Pin the ears face down onto the front of the bag base, about 1″ down from the top, as pictured below. Stitch over the open seams of the ears to sew them to the bag base.
7. Hem the bag by folding the top and bottom edges of the bag base down 1″ and stitching 1/4″ from the edge. This will also fold your ears upright, as pictured below.
8. Fold your bag base wrong side out, and place your arms and legs inside the bag with just the edges sticking out, as you can see below.
Starting just below the top hem, stitch down the 2 sides of you bag, sewing through the bag and the arms/legs.
9. Flip right side out.
10. You will need 2 pieces of 26″ long ribbon.
Use a safety pin to thread your ribbon through the hems on the top of your bag. As shown below, you will want to start each ribbon on opposite sides and then loop back around.
Once you have your ribbon threaded through, tie the ends into a knot.
And you're done! I'm planning on filling this bag with some Valentine's Day candy to give to my best friend's daughter.
What color would you make the bear? Let us know below in the comments!
Latest posts by Katie Smith
(see all)