'Tis the season where the cold weather is here to stay and blankets become my new best friend, and there's nothing quite like snuggling up with a cozy quilt at the end of a long and chilly day. Since we're going to be bundling up anyway, why not make sure that we have plenty of pretty quilts to wrap up with? A classic quilt pattern never goes out of style, but sometimes it's nice to spice things up a little. Geometric patterns, chevron, and ombre are all modern trends that came in with a bang and aren't going anywhere, so now that the weather's cooling down and the idea of a cozy quilt is getting more and more appealing, take some time to experiment with some totally modern quilt patterns that incorporate these fun looks! Whether you're quilting for family, friends, or even just for yourself, these free quilt patterns are sure to add a trendy twist to the quilts you make this season!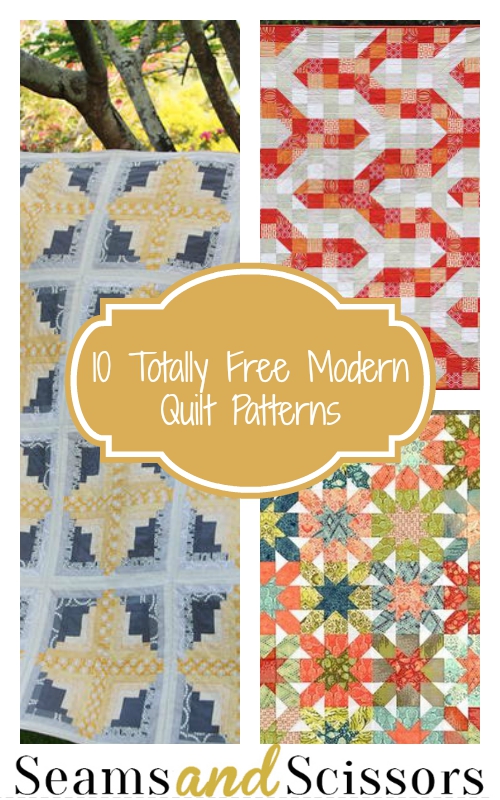 10 Totally Free Modern Quilt Patterns
I'm bringing you 10 easy quilt patterns that are guaranteed to take your quilt to the next level. From traditional quilts with a modern twist to fresh and fun new styles, you'll love crafting our creative quilting patterns all season long. These stylish quilts would make a perfect gift for the holidays or for a new addition to the family, but they're so gorgeous you'll have a hard time parting with them – prepare a spot in your home just in case!
Sunny Log Cabin Quilt – This cheerful quilt uses color gradients to create an eye-catching effect!
Stylish Modern Garden Quilt – Vibrant fabrics are key to giving this charm quilt a mod makeover.
Ombre Diamonds Quilt – A color gradient plus contrast make this ombre quilt a new favorite!
Modern Geometric Quilt – This gorgeous quilt resembles a stained glass window when it's all finished.
Princess Kate Diamond Quilt – Diamonds are a girl's best friend in this royal-approved quilt!
Chevron Chic Quilt – Transform any room with this cool chevron pattern.
Fun Fruit Ninja Quilt – A fun quilt based on the (strangely therapeutic) Fruit Ninja game!
Stunning Starburst Quilt – This vibrant quilt combines quilting techniques for a fun new look.
Vintage Into Modern Quilt – In with the new! Combine quilting styles to create this cool contrast.
Scrappy Irish Chain Quilt – A new take on an old favorite, this quilt is a great way to use up old scraps!
Here are just some of these cool designs:
What kind of quilt are you working on right now?
Latest posts by FaveQuilts
(see all)