I. Love. Pinterest. It is where I get the best ideas for literally all aspects of my life. My current obsession is decorating my dream house with unlimited amount of money and a ton of different themes. In reality, I'm a college student still living at home—hey, a girl can dream, can't she? Since you all are adults doing…adult things, you are more likely to create beautiful rooms within a budget. Your craft room is your craft room. It is a mess, but even madness has its reasons. If you're like me and you need there to be at least some sort of a theme for every room, then look no further. This is your best craft room theme inspiration. From organizing fabric to DIY shelves, you're going to love these awesome ideas that will turn your mess room into a cute craft room.
I love this easy set up for a DIY craft room. Only a few minor changes can make a difference between a brand new craft room or an even bigger mess than before (let's aim for the former). The way the table is flush against the wall will give you more room to move around and to store your items. It also makes the room seem more as a "storage" (I say that term loosely) room, rather than a dining room. Especially if you're repainting an old table of yours that was once your kitchen table, you need to rid the memories of that item as a kitchen table. Out with the old, in with the new/upcycled. The shelving you can buy at your local store (anywhere really) and put it together. Everything else you can make for yourself!
Now, don't be too intimidated. It is a fabulous craft room, so pretty and color coordinated. You don't have to put a fresh coat of paint on there just to completely copy this look. Use whatever you want. This craft room is super easy to mimic. The main parts of this picture are the table and the shelving. Like I said before, you can go out and buy a new shelf if you want, but you can also check your local thrift store or garage sale for some cheap furniture. All it takes to match furniture is a thick coat of paint. Please, please, please be sure to sand it and put a layer of prime on it before anything. You wouldn't want to ruin anything if you ever change your mind.
If you don't have a table, there is an awesome space saver that is a DIY Foldable Work Table that doubles as a shelving space for your small craft tools. It will take a little time to make, but there are easy step by step instructions with lots of pictures along the way. Bubblewrapp'd did a fantastic job of explain everything. If you don't have a work bench, table, or you are crammed for space, this project would be perfect for you.
For some DIY organization, storage bins are always a must. With these homemade storage bins, you're going to be able to coordinate and personalize every part of this cute craft room. They are a great way to store your neatly folded fabric and your messy scrap pile away from wandering eyes. Your family doesn't have to know your tricks that you use to hide the clutter!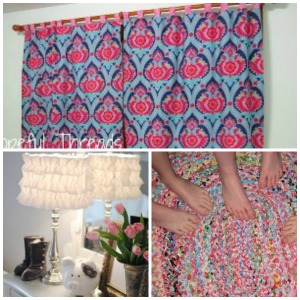 Now, to go with the rest of your decor, you need some beautiful homemade curtains. These would be a great accent to your craft room. This is a super easy sewing project that anyone can do. Don't spend your money on a brand new rug either. You can use those old scraps to make a DIY braided rug that would look great with any color palette that you choose. Finally, that lampshade on the far right: the little extra light is always nice when you're sewing late into the night. I suggest this ruffled lampshade that is super easy to make.
I know it seems like a lot to do for your craft room, but you will thank yourself later when you clean up, decorate, and organize your craft room. You won't have to shut the door anymore out of embarrassment (like I do all the time). Clever craft room ideas come in all shapes and sizes.
Don't forget to check out our free organization eBook that will help you if you're looking for more organizational ideas.
Don't be shy! What are some of your craft room inspirations? Let us know below in the comments!
Latest posts by AllFreeSewing
(see all)