When my best friend became pregnant, the first thing she was thinking about was the nursery. She loves decorating her home with the latest styles and fads. Her fault, however, is that she seems to have a taste for full-priced items. Unfortunately, I have the same issue, but I at least try to curb away from such indulgences. As a young parent, she quickly realized how expensive baby items turn out to be, on top of the other expenses of daily life. Her "designer days" quickly ended as she began to shop the sale racks and clearance items. However, she never lost her taste.
Why just shop clearance items, though? If I had not been at school, I would have been sewing all sorts of DIY baby stuff for her. Chevron patterns are still super popular, along with a gray-scale as a neutral color, and then adding an accent color to pop. I've always done this as a general rule with my decor because then it is easier to switch out my daily decorations with holiday decorations.
It always baffles me why more people don't sew their own stuff. Sure, it's easier to just go out and buy an item—I'll admit, I'm guilty of splurging on a simple skirt when I could have just made a homemade maxi skirt—but what having a dozen younger cousins, a child development class, and three years of teaching in a preschool has taught me, is that kids are incredibly expensive. And until they are on their own, they just get more expensive as they get older. That's why this DIY nursery is going to save you loads of cash for the full priced items.
If you're willing to construct your own crib and dresser set, that is totally your prerogative. However, I am be focusing on easy sewing patterns for baby. I found this picture on Project Nursery, uploaded by a user named LBerkeley. Well, LBerkeley has some really cute chevron ideas for your nursery. She uses gray, white, and a pretty blue as her color scheme. Obviously you can use whatever colors fit your fancy, but this is a nice setup for some innovative designs. Luckily, if you get stuck on a pattern, or run out of time to make something but still want that exact item, she listed where to find those items. A good majority of the art are DIY canvas crafts, but those can be easily made within an hour.
Get the Look! DIY Baby Nursery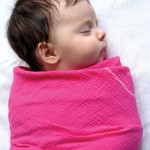 What do you think is the most important part of the nursery? Let us know below in the comments!
Latest posts by AllFreeSewing
(see all)