Keeping your kids' cute outfits clean during special occasions can be a challenge. I don't know about you, but I have found that commercial bibs don't provide full mess coverage, especially at the shoulders and around the neck. After years and years of post-holiday laundry sessions, I decided that enough was enough, and I went to the department store to purchase some soft and inexpensive hand towels. I got to work and invented a baby bib pattern of my own, one that would be big enough to catch any mess my little ones could throw at them. I had less clothing to wash plus a pile of bibs that could just be thrown in with the rest of my dirty towels. Here is my baby bib tutorial! I hope they help you as much as they helped me!
Heavy Duty Baby Bib Pattern
1. Size Up Your Towel

If necessary, cut the towel in half. Hand towels are sold in varying sizes, and the one is this example measures 15" by 24", so I cut it in half. I sewed over the cut edge to keep it from unraveling.
2. Cut a Hole for Your Baby's Head

Trace a circle between 5 and 6 inches in diameter near the upper edge of the towel, leaving enough towel to drape over the baby's shoulders.
3. Form the Neck

Cut a piece of ribbing or very stretchy knit at 3" by 18" (approximately). Sew the ends together to form a tube. I recommend using a zigzag stitch or an overlock edge to enable stretching.
4.Put a Ring on It

Fold the tube in half along the longest edge to create a ring that is about 1 1/2"
5. Bring it All Together

Using pins, attach the ring of ribbing to the opening of the towel. Try to keep the seam in the back. Secure temporarily with the pins stretching slightly as you pin.
6. Serge that Neckline

Sew the neck ring again with a zigzag stitch on the sewing machine or with a Serger.
7. Secure and Avoid the Roll

Top stitch 1/8" from ribbing on the towel side. This will secure the ribbing and keep it from rolling out.
And there you have it! A bib perfect for your Easter baby!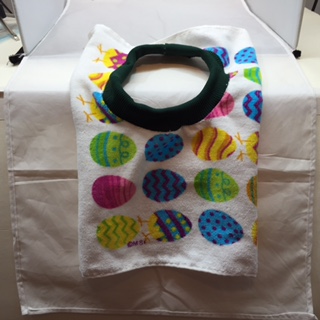 Are you excited to do less laundry? Let us know and then check out my blog for even more tutorials!
Latest posts by Ann Strecko Koeman
(see all)