AllFreeSewing and FaveQuilts want to thank everyone for participating in our Hands-on-Heart Breast Cancer Pillow Charity Drive! Thanks to everyone's efforts we were able to collect a whopping 521 pillows for the American Cancer Society! We'll soon be transporting all of the pillows to American Sewing Guild of Chicago which will then be sent to the American Cancer Society and from there distributed to individuals.
A few special thanks…
To Fairfield,
Our copilots in this charity drive! Fairfield generously donated all of the weekly bags of Poly-fil we were able to send to weekly prize-winners, as well as the grand prize to our lucky winner. Thanks to the generous folks at Fairfield we were also able to have Poly-fil filling while hosting several girl scout troops in our office and our individual office pillow-making party. Fairfield, we couldn't have had such enormous success without you!
By the way! The winner of our Hands-on-Heart Pillow Drive contest is Audrey Euneau! Thank you, Audrey! You can expect to hear from us shortly.
To BERNINA,
Who generously lent us the Bernette sewing machines on which we created the pillows with the girl scout troops and our office mates. We've never been more surrounded by gorgeous machines at work before, and your benevolent contribution gave many of our visiting girl scouts and staff a chance to try sewing for the first time. Thank you, BERNINA!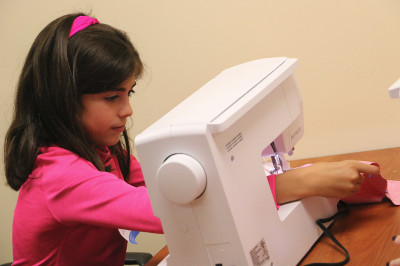 To the Girl Scouts,
The tens of girls who filed into our offices on a Saturday and worked to each make a pillow for our drive. They were the real kickstarters to our final tally and we couldn't thank them more.
To All of You!
Every pillow, every note, and every stitch you donated was well received. Your stories touched us and reaffirmed why we work in our industry. You are the force behind our 521 number and we couldn't be more grateful. Whether you made a pillow yourself, helped someone else, or passed the information along to someone else, we appreciate it!
Latest posts by AllFreeSewing
(see all)