With all of the Christmas shopping and cooking that has to get done during the holiday season, you might have forgotten to add someone to your shopping list: your furry friends, of course! Pets are people, too, or at least that's what I think. You don't have to go all-out if you feel silly giving Christmas presents to the animals in your life, but it's the holidays—why not give them a little extra something?
Toys and supplies for pets tend to be marked way up at your typical pet store—I don't know about you, but I have a hard time justifying paying $20 for a toy that Fido is just going to chew up in a few days anyway. Luckily, gifting for your pets doesn't have to break the bank! I've rounded up 15 free, easy sewing patterns for cats and dogs alike—no need to choose here! If you've got some spare time before the holidays, make a pet gift for the companions who have been there for you through it all.

Happy Howl-idays: DIY Christmas Gifts for your Pet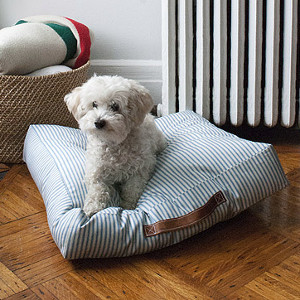 DIY Pet Bed Patterns
Let your pet sleep in style with these DIY cat and dog bed patterns. You can even tailor these easy sewing patterns to fit your pet perfectly!
15-Minute Pet Bed
No-Sew DIY Cat Tent
Doggy Bed and Blanket Set
Stylish Strapped Pet Bed
Personalized DIY Dog Bed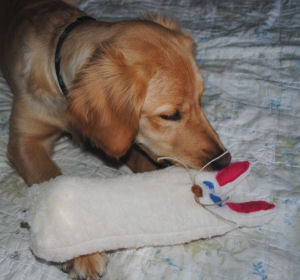 DIY Dog and Cat Toys
If you make your own DIY pet toys, you'll never have to stress at the pet store again! Best of all, once you learn how, your pet will always have a steady stream of new entertainment.
Tug of War Dog Toy
Run Rabbit Run Dog Toy
Furry Friend Christmas Gift
Easy Catnip Mouse
No-Sew Octopus Pet Toy
Sew Clothes for Your Pet
Partly because it's cold outside and partly because they're so darn cute, these animal clothes patterns are worth a look.
DIY Kitty Legwarmers
Puppy Love Bandana
DIY Dog Clothes
Quick Draw McGraw Puppy Bandana
Adorable and Easy DIY M&M Dog Costume
Are you a dog person or a cat person? Let us know below in the comments!
Latest posts by AllFreeSewing
(see all)