Hexagon Purse
Finished Size: 19″ x 20″
By Kathy Ranabargar
Dies Required:
659146 Sizzix® Bigz™ Die – Hexagon, 2″ Sides
 660516 Sizzix Bigz XL 25″ Die – Strips, 1 1/2″ Wide
Fabric Requirements:
Yardage                                Fabric                                                                    Cutting Instructions
(10) 10″ squares                Variety of coordinating fabrics                        Cut (58) Hexagons
3/4 yd                                   Light-colored fabric (lining)
1/8 yd                                   Blue fabric (handle)
42″ square                          Low loft batting                                                Cut (1) 1 1/2″ wide Strip x 42″ for handle
2                                              Round hardware rings
1                                              Hook-and-loop fastener or snap
Notes:
All seam allowances are 1/4″ unless noted.
WOF = width of fabric
Assembling the Project: 
Mark a dot on the back side in each corner of each Hexagon. Make rows of Hexagons, sewing only from dot to dot. Begin sewing with row one. Sew Hexagons together horizontally. Follow Diagram 1 for placement.
When horizontal rows are completed, sew rows together to form the body of the bag using a "Y" seam. See Diagram 2. Press.
Layer body of the bag onto batting. Quilt as desired.
Trim batting to the edge of the bag body.
With right sides together, begin by sewing one hexagon side of row 4 to one Hexagon side of row 5. This will form the flat bag body into a completed bag shape. See Diagram 3. Continue sewing all side hexagons using the same "Y" seam all the way to the top edge of the bag. Repeat on all sides.
To make the bag lining, lay your fabric right sides together on a table. Draw a 26″ line parallel to the selvage. From the middle of that line (13″), measure perpendicular to 12 1/4″. Make a dot. At that dot, measure 7 1/4″ on both sides, creating a line that is parallel to the 26″ line. Draw a diagonal line connecting the two lines to form a large half hexagon shape. See Diagram 4.
With a 1/2″ seam allowance, sew down the side of the lining, pivoting at corners. Leave a 6″ opening at the bottom for turning the bag right side out. Press seams open.
At each bottom corner, match side seam and bottom seam creating a triangle. Measure and mark 2″ across. Stitch on marked line to create a gusset.
To make the handles, cut blue fabric to 4 1/4″ x WOF. With the blue fabric face up, place the batting strip to the edge of the handle fabric. Sew along the length of the batting. On the opposite long side of blue fabric, press under 1/4″. Roll batting to the wrong side of the blue fabric. Fold the opposite edge of blue fabric over the batting, lining up straight edges. Pin and topstitch closed. Topstitch opposite edge.
Cut two 5″ lengths from handle strap. Slide ring through and fold in half. Pin outside right sides together to bag side. Baste in place. Repeat on other side.
Place bag body inside lining, right sides together. Pin and sew around top edge. Trim and clip seam. Turn bag right side out through lining and sew hole closed.
Measure 20″ of remaining handle strap. Add or shorten as desired. Slide ends through rings and fold edges under. Sew handle strap close to ring.
Add hook-and-loop tape or snap for a closure, if desired.
That's it! You've just made a lovely purse…  Now for today's DAILY GIVEAWAY!  You're going to love this:  Head over to AllFreeSewing for your chance to win this fabulous prize from Sizzix.  
And don't forget your daily chance to win the National Sewing Month 2015 Grand Prize Giveaway.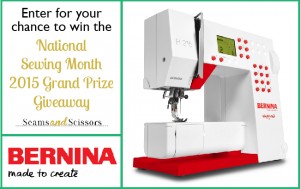 Would color fabric would you use for this purse?
Latest posts by AllFreeSewing
(see all)