There's nothing that I love more than organization. You know, every person says that, but do they really mean it. I feel like every craft room, kitchen, storage room, or whatever kind of room is just a competition to see who can hide the most stuff and call it organization. This is not about hiding the clutter, people. This is about knowing where everything is. Everything.
Do you know where that one piece of fabric from that one quilt from eight months ago went? It was probably about a half-yard long project…
Or that button that you got with the emerald green cardigan, that you swore you wouldn't need. Well, shoot. The button didn't get the memo.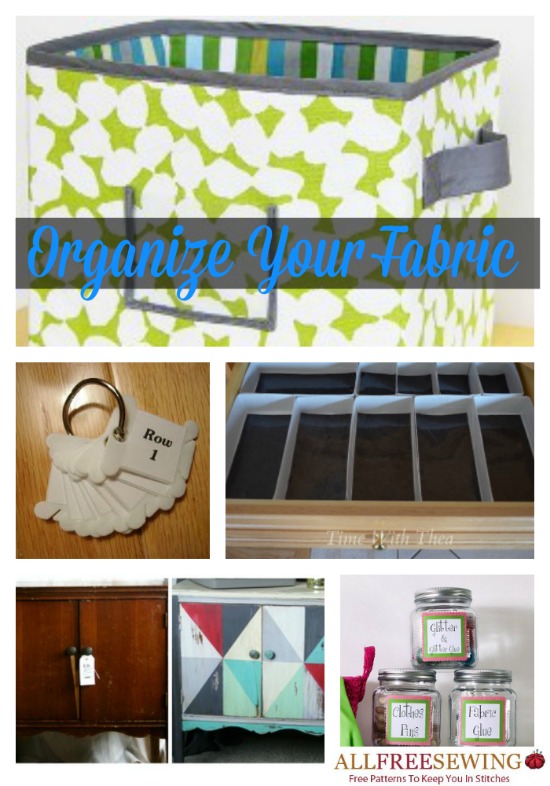 How to Organize Fabric: Tricks and Inspiration
Organizing your craft room is a huge project in itself. That's why you start small and work your way up to the big leagues. Start out with jars to organize and sort through the tiny buttons, beads, and rhinestones. Eventually, the magnificent urge to color-coat will come upon you. Don't worry; we will talk about that later.
My go-to organizational method, for anything and everything, is storage boxes. I'm not talking cardboard because who wants to look at that? No, I'm talking about the colored, patterned, or labeled fabric bins that you see at your local store. Instead of spending the $10-$15 a box, just make soft storage boxes yourself here in your own color scheme and pattern. They are a great start to de-cluttering your room. If you want to go a step ahead, you can sew the boxes according to the color of your fabric. A red box for your red fabrics, fleece for your fleeces, and so on. This gives you an easy way to know exactly where all your fabrics are at once. Check out these other organizing methods that others have come up with!
If you have very little space like me, then you're probably going for more vertical organization. Never fear! I found an old dresser and side table with drawers and upcycled them from a garage sale. It was nothing too fancy, but they serve the purpose of holding various items. Inside the drawers is the exciting part: these cardboard drawer dividers are an easy organization project that you can use right away. I use them for separating tools and extra supplies. However, they can be used for (gasp!) color-organized scraps of fabric. If you have paper patterns, you could use these drawers to separate them into their own categories.
When you're sewing together a large blanket or quilt with many pieces, it can get confusing sometimes to keep the rows straight. Relax. Breathe. I'm here to help. These Quilt Row Markers are great for keeping those pieces straight. It's cost effective and it will last for years!
Finding your method of organization is the most important part. What works for you and your creative flow is going to be what makes you keep your method. After all, genius and madness often go hand in hand.
What are some of your methods of organizing fabric?
Latest posts by AllFreeSewing
(see all)