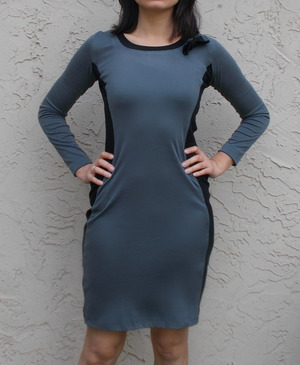 Congrats to Sharon Kaminski on being selected as the winner of our last #CustomFit blog post!
We're continuing our #CustomFit series with a custom article from Daniela from On the Cutting Floor. Be you an avid follower of AllFreeSewing's newsletters, Sewing It Up, or a casual visitor to Seams and Scissors, you'll most likely recognize Daniela's signature dress styles that are both classic cuts and flattering to various figures.
Today we're pleased to reveal Daniela's latest article for us on drafting. Follow along as Daniela teaches us how to make a basic dress pattern. Given the season we're finding this particular drafting tutorial helpful for sweater dresses. Learn how to draft your own pattern and apply it to a brand new sweater dress for your New Year's soiree.
Where can you find this delightful tutorial? Right here!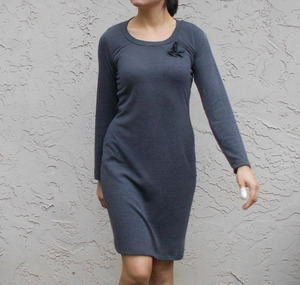 This full tutorial, found on AllFreeSewing right here, tells you how you can make a dress fit for your body. Given the nature of our #CustomFit series we're finding this absolutely appropriate. Today we're happy to celebrate the possibility of creating something customized for you with this one-of-a-kind pattern drafting tutorial.
Best of all, Daniela offers style variations for this DIY dress so that it won't only fit your body, but your taste as well. With step-by-step images to help guide you along while making this dress, you'll stay on point while creating this amazing piece of clothing.
And of course, what would a #CustomFit installment be without a little sweetener? If you comment on this blog post you'll be entered to win a copy of one of our favorite books from Sixth and String Books, Sew Red: Sewing & Quilting for Women's Heart Heatlth. Filled with an abundance of patterns and tutorials, this book contains everything you need for a brand new array of projects.
To enter to win this amazing book, tell us:
Be honest, is there an article of clothing you have that you consider particularly flattering?
OFFICIAL RULES FOR DAILY CONTEST:
There is a maximum of one entry per person. The entry will be based upon a comment left on this blog post. Duplicate comments will be deleted and are not tallied.
Winner will be selected at random from the comments on this blog post.
Winner will be announced here on the blog January 2nd, 2015 as well as contacted by the email address provided.

You have until January 1st, 2015 at 11:59p EST to leave your comment on the project above. Comments posted after that will not be counted.
Contest open to anyone 18+ in US and/or Canada.
#CustomFit Forecast: The next topic of conversation will be…. January 2nd!
Latest posts by AllFreeSewing
(see all)