Congrats to yesterday's winner, Donni, on winning Day 16's daily giveaway! Congrats too to the winner of the previous day's giveaway, Donna Hinton, on winning the prize from Sizzix! We will be in contact so that you can claim your prize.
It's Day Sixteen of National Sewing Month! Don't forget to visit Seams and Scissors every day to find daily giveaway opportunities and sewing ideas! To enter today's daily giveaway, find the contest rules and leave a comment below. Also look out below for details on how to enter our National Sewing Month grand prize that includes a BERNINA 215 Sewing Machine! Too see the daily blog posts, projects of the day, and more National Sewing Month details, click here.
We've all been there: you walk into the fabric store and your eyes are instantly drawn to a beautiful color or print. You're about to go for it, when you remember with dread the disorganized, overwhelming heap of fabrics that you have strewn about your sewing room at home. You pause, thinking. Do I already have a fabric in this color? Do I have anywhere to put this? It's hard to know the answers to these questions when your fabric is disorganized. If you tend to be on the messy side, it's not your fault! In the midst of a stressful, busy life, organizing your fabric stash might be the last item on a long list of priorities.
We here at Seams and Scissors understand the struggles of keeping track of your fabrics and maintaining an orderly sewing room. Luckily, we have scoured the web and compiled the best ways that you can learn How to Organize Fabric.  Organizing your fabric takes time, but it is important and will completely revolutionize your sewing process. Sewing will be so much more enjoyable when your fabrics are in order. You will save money and time by knowing exactly what you already have and what you need. Plus, you'll be so inspired to come up with unique, exciting sewing projects when you see your gorgeous fabrics displayed in an orderly fashion. Check out these awesome tips and be amazed at what a little organization can do for you.
Fabric Storage Ideas
Bookshelves
Using bookshelves to hold your fabric is one of the easiest ways to organize your fabric in style. You can use shelving of any size, depending on the space you have to work with. Simply fold up your fabrics and stack them, or use bolts to store them vertically, like they do at the fabric store. You can use a different shelf for each color or material to keep your fabrics even more organized.
Clear Drawers
If you don't have the shelf space to keep your fabric out in the open, consider using clear drawers to organize your fabric. This will reduce the look of clutter, but still allow you to see what fabrics you have in a glance.
Hangers
A closet full of hangers is a great place to keep your fabric out of the way, yet readily available to you.  Plus, it will reduce wrinkles and save you time on ironing later! Buy hangers that stack to save even more space and keep your fabric even more organized.
Useful Tips and Tricks
Measure your shelves to know exactly what size to fold your fabrics so they fit neatly on the shelf.
Keep fabric scraps in a separate bin or drawer. If the piece of fabric is less than 1/4 of a yard, it should be considered a scrap.
Trim off unusable pieces that are not easily folded.
Get rid of fabric that you're never going to use. It can be really tempting to hoard every last scrap, but the best way to organize is to downsize your stash.
Keep your fabric in a dry, room-temperature space away from direct sunlight, funky smells, and animals.
Most important tip: Do what works for you. People think in different ways, and one method that you love might not work for someone else. Choose whatever method helps you have the best sewing experience.
Also remember to check out the Project of the Day right here!
To enter the daily giveaway, leave a comment below telling us:
Would you call your sewing materials "organized"?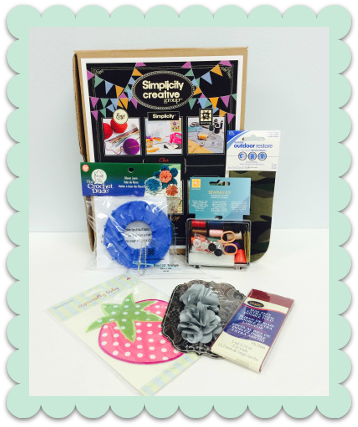 Official Rules for Daily Contest
There is a maximum of one entry per person. The entry will be based upon a comment left on this blog post. Duplicate comments will be deleted and are not tallied.
Winner will be selected at random from the comments on this blog post below.
You have until tonight, September 16th, 2014 at 11:59p EST to leave your comment on this post. Comments posted after that will not be counted.
Contest open to anyone 18+ in US and/or Canada.

Latest posts by AllFreeSewing
(see all)