Today's National Sewing Month Project is brought to you by Carole from From My Carolina Home.
How many times have you made place mats or a table runner, and then thought it would be so lovely to have matching napkins.  Truly, fabric napkins on the serger are very fast.  You can make a whole set in under an hour.  There is a trick to getting perfect serged corners, and I'll show you how.
Start by cutting your squares for the napkins.  The ideal size is 16 inches, but I have made them at 12 inches for luncheon size, or up to 20 inches for a formal dinner size.  This fabric goes with the Three Maple Leaves Table Runner and the panel place mats.
Set your serger for a three-thread rolled edge.  Be sure to move your cutting blade down.  If you have a differential feed, set it on 1-to-1.  Serge the first side, stopping about 1 or 2 stitch lengths before you get to the edge.  This is a bit tough to see at first, but you'll soon figure out where to stop.  Raise the needle up.
Lift the presser foot, and gently pull the fabric toward the back of the machine ever so slightly (just a millimeter or two) to release it from the flange, then turn it 90 degrees, pivoting around at the corner..  Try to minimize the amount of thread you pull.  Place it back under the presser foot lining up the top edge with the needle position.  Lower the needle and put the fabric next to it.  Lower your presser foot.
Serge the next side, and repeat until all four sides are done.
By limiting the amount of thread at the corner, you end up with perfect corners, no knots, no extra bunching up.
Here's the back side.
On the last corner, serge off the end, then tie off or bury your threads.  I did four napkins in about 30 minutes!
Practice on some scraps first.  It will take a few tries to get the pivot point just right, but once you do, it is easy from there!
If you don't have a serger, you can make the napkins quickly on your sewing machine by using a rolled edge foot to hide the raw edge. A serger makes this project super fast.  You can have beautiful matching napkins for all your table top creations!  Just get an extra yard of fabric, and you'll have enough for six large dinner napkins.  A beautiful table is only a few stitches away.
Today's prize is a giftbag filled with a bag of Poly-Fil and a bundle of cute fabrics!
To enter the daily giveaway, leave a comment below telling us:
What holiday do you tend to sew for most?
Official Rules for Daily Contest
There is a maximum of one entry per person. The entry will be based upon a comment left on this blog post. Duplicate comments will be deleted and are not tallied.
Winner will be selected at random from the comments on this blog post below.
You have until tonight, September 25th, 2015 at 11:59p EST to leave your comment on this post. Comments posted after that will not be counted.
Contest open to anyone 18+ in US and/or Canada.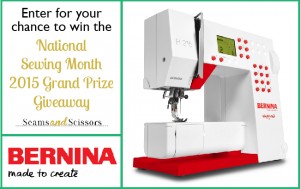 Enter daily for your chance to win the National Sewing Month 2015 Grand Prize Giveaway.
Latest posts by AllFreeSewing
(see all)