Ugh, everything stinks. The holidays are over, it's sub-zero outside, and the only event around the bend is Valentine's Day when I'll be toasting myself in the mirror with a glass of wine and an episode of Golden Girls. The problem is that treat is still a month away. How can someone who was in such a state of euphoria last week be so deep down depressed today?
Answer: the winter blues.
The cold, slow killer of all things delightful. What you (because I'm roping you all into this tragic despondency) need is a project. Yes, a sewing project. Guess what? Sewing projects happen to be our specialty.
Given that you'll most likely be spending the next four months burrowed inside of your home we decided to update a collection of projects that acknowledges several aspects of your home decor. You've seen it before but it's never looked this good. Ladies and gentlemen, here to warm up your cold winter heart are 8 Easy Sewing Projects for the Home: Free Sewing Patterns for Home Decor.
This is a full and free eBook, stocked with project tutorials that can improve the overall decor of your home. By just sewing one of these easy projects you can brighten up a room that otherwise carried the aftermath of holiday droll.
What you'll find in this free eBook are projects that range from DIY lampshades, handmade pillows, and even bathroom decor. A few of our favorites from this selection:
Who are we kidding? We love every single one of these projects. Each one is specially designed to boost your morale, or at least brighten up your home. With a materials list, full instructions, and photos for every project you can learn how to sew home decor that you'll absolutely love.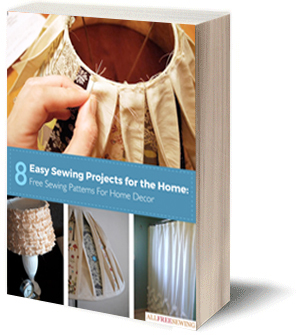 Strip your home of all of that clutter and expired decorations. It's time to breathe some fresh air into your style with the help of 8 Easy Sewing Projects for the Home: Free Sewing Patterns for Home Decor. The download is free and doesn't require you to sign up for anything (though you have the option and we strongly encourage it 😉 ). Find this incredible collection exclusively on our Mother Ship, AllFreeSewing.
What is one "problem-area" of your home that you'd like to change?
Latest posts by AllFreeSewing
(see all)