Today's National Sewing Month Project is brought to you by Anorina Morris from SameliasMum.
If you are looking for a quick sewing project, or something to spruce up the home, these Scrappy Placemats are the perfect project for you.  Placemats are great due to their manageable size, and make great pieces to practice new techniques on.  You'll be amazed at how quickly a placemat comes together, and before you know it, you'll have a finished set.  Think about all the possibilites:  placemats for every holiday and season, special occasion and don't forget that they make great gifts.  



Scrappy Quilted Placemats
Pattern by Anorina Morris
www.sameliasmum.com
Finished size = 12″ x 15″
Materials:
* Mixed strips for the wonky feature piece
(4) solid fabric pieces for the borders (the size of these will be dependent on the wonky piece). 2 of these solid pieces should be the width of the placemat.
(1) 13″ x 16″ piece of batting (this is an approximate size and can be made to suit your personal preferences)
(1) 13″ x 16″ backing fabric (I used a flannel print which I think works best)
3 1/2″ x WOF for binding
Sewing Machine with neutral cotton thread
Rotary cutter, ruler and mat
Frixion or marking pen (optional)
Basting spray (optional)
* The fabric used in my wonky feature is called Extravaganza by Lila Tueller for Riley Blake Designs.
Method:
Cut a number of strips in varying widths and lengths.
Width – Between 3/4″ to 2″
Length – Between 4″ to 11″
Place the backing piece on a flat surface with the wrong side facing up. Align and place the batting on top. Use a little basting spray to hold these pieces together.
Decide on where the feature piece will be positioned. Choose the first 2 strips, put them together with right sides facing. Line up a raw long edge and place them on top of the batting.
Begin at the top of the aligned strip edge and sew a seam. This will go through the 2 strips, batting and backing fabrics. Cut the thread, flip the top strip over so that the right side is now facing upwards. Quilt straight lines along both strips.
Choose another strip and line it up along a raw edge of the previous strips. Sew the seam, flip and quilt. Continue doing this until you're pleased with the feature piece. It can be as small or as large as you would like (image below – left).
Use your ruler and marking tool to draw straight lines where you would like the bordering solid fabric to go. This is an optional step, but it will be helpful to get straighter borders and to ensure that there are no raw edges from the feature piece showing (image above – right).
Place the first border piece face on one side of the feature. Use the drawn line as a guide. Ensure the side border piece is wide enough, that when flipped, it will reach the edge of the batting. Sew the seam, flip and quilt (image above – left).
Repeat the above step to add the 3 remaining borders. Once all borders have been quilted, trim down the placemat to 12″ x 15″ (approximately).
Binding
From the binding print fabric, cut (2) 1 3/4″ x WOF. Join the binding strips together end to end with 45-degree seams, then trim the seams and press them open.
Starting about halfway along one side of the placemat and leaving a tail for joining, sew the binding to the right side, mitring the corners as you go. Stop approximately 6" from the starting point, join the ends neatly with a 45-degree seam, trim the surplus and finish sewing the binding to the placemat.
Turn the placemat to the back, turn the raw edges under and slip-stitch the binding in place along the seam-line.
If you liked my pattern and use it to create your own Scrappy Quilted Placemats, I would love to see your creations. Please email a picture to sameliasmum@gmail.com or tag me on social media with my handle @SameliasMum or hashtag #SameliasMum.  Wishing you happy scrappy sewing,
Anorina  🙂
And now for the DAILY GIVEAWAY.  Today's prize is a June Tailor Gift pack that includes Quilt As You Go Batting, and more!
To enter the daily giveaway, leave a comment below telling us:
What season do you get most excited sewing for?
Official Rules for Daily Contest
There is a maximum of one entry per person. The entry will be based upon a comment left on this blog post. Duplicate comments will be deleted and are not tallied.
Winner will be selected at random from the comments on this blog post below.
You have until tonight, September 22nd, 2015 at 11:59p EST to leave your comment on this post. Comments posted after that will not be counted.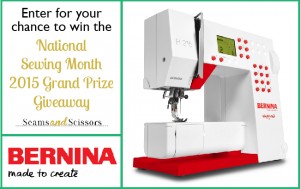 Enter daily for your chance to win the National Sewing Month 2015 Grand Prize Giveaway.
Latest posts by AllFreeSewing
(see all)