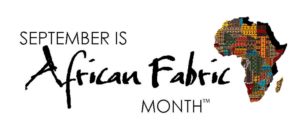 If you've never worked with authentic African fabrics, there's no better time to start than now, during African Fabric Month!
African fabrics are more popular than ever, so we're taking the time to spotlight some of the continent's most popular textile arts with a month-long celebration in September.
From fashion runways worldwide to exclusive boutiques to discount home décor retailers, the appeal of African culture in cloth continues to grow. And these unique textile treasures take on even greater meaning when they're transformed into all kinds of dramatic DIY projects.  These are some of my favorites:
African Fabric Month™ is an exciting new venture sponsored by Cultured Expressions, Inc. AFM promotes the artistic and practical uses of such fabrics as batik, kuba, adinkra, bogolan/mudcloth, korhogo, adire, kente, and more, and serves to honor and promote the cultures that create them. Fabrics like these lend themselves to one-of-a-kind garments, handbags and accessories, quilts and home accents, connecting DIY makers to the creators of the cloths through their culturally relevant colors, patterns and symbols.
My own obsession with African fabric began with a trip to Senegal, West Africa in 1986, and they've been speaking to me ever since, whether I'm sewing clothing, home décor, quilts, accessories or gifts…Then in 1999 I decided that had to share the fun with others through my first book, African Accents: Fabrics and Crafts to Decorate Your Home.  One of the things I love most about African fabrics is the bold designs and textures do most of the work – even the simplest project is elevated by the fabrics, making them perfect for beginning sewing enthusiasts.  They also appeal to the more experienced stitcher who is drawn to "quick-and-easy" projects when creative time is limited, but who still wants to make a statement.
One of my greatest joys is making the awe-inspiring textile artistry of various African cultures accessible to others, especially now, during its resurgence in all areas of pop culture and design. My passion is creating projects and events that expose people of all backgrounds to the beauty of the fabrics, giving DIY'ers an opportunity to truly "Feel the Fabric…Embrace the Culture." African Fabric Month is just another fun way to reach more people, with projects that are fun, educational, and culturally relevant.
Because it's mainly geared to people who like to sew, quilt and craft, AFM's time frame gives you enough time to engage in the creation of unique projects.  Everyone is welcome to participate, and to share your own AFM creations with social media posts, using #AfricanFabricMonth.  Visit www.AfricanFabricMonth.com for details on our Hashtag Friday giveaways on September 9, 16, 23 and 30!
Which African fabric inspires you?
Latest posts by Lisa Shepard Stewart
(see all)