Let's face it: quilting is expensive. From the tools and notions to thread and fabric, it seems like every step of the process requires you to break open the piggy bank. To combat this, a seasoned quilter knows how to cut costs. Figuring out how to make a budget-friendly quilt as inexpensively as you possibly can takes a little bit of maneuvering, but once you start, it's addicting!
So what are some of the best ways to keep the price tag manageable? Well, start with, remember that the best way to avoid having to buy new tools is to not need them! Be vigilant about using separate scissors for paper and fabric, to keep your fabric scissors from getting dull. Keep needles sharp and clean with an emery pincushion (you know, the little strawberry that hangs off the end of your tomato pincushion?) which uses emery sand to keep things sharp.
It's also important to perform regular maintenance on your sewing machine if you have one (if you're exclusively a hand-quilter—we're impressed!) to keep things well-oiled and running smoothly. Sewing machines are like cars … even a tiny problem can be costly. So avoid potentially pricey repairs with these easy tips:
Another smart way to avoid expenses is to be careful with scraps and leftover thread. We've all done it: after embroidering or touching up a quilt by hand, we cut way too much string and have too much leftover. Rather than throwing that away, keep all your leftovers in a little box. These bits of thread are perfect for moments when you need to patch a pair of pants, sew a quilt closed, or darn some socks!
Using your scraps to make a quilt is the most time-tested and treasured trick in the book. Whether you have leftover pre-cuts, long strips, or colorful squares, scraps are the absolute best way to cut down costs.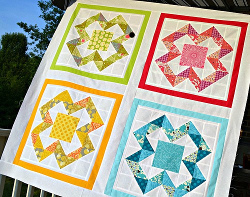 But have you ever made a t-shirt quilt? These amazing keepsake quilts are nostalgic, beautiful, and completely free. There's way more fabric on a t-shirt than in your scrap pile, so if your stash is running low a t-shirt quilt is the way to go.
What ways do you cut costs when you quilt?
Latest posts by FaveQuilts
(see all)