Summer is coming, I'm loving the idea of transitioning from winter scarves to summer lightweight cotton scarves. It's easy to either make your own or transform a thrift shop purchase to sew your own accessories.
These scarves are inspired by the Japanese shibori style. Shibori stems from Japan. It's a technique which involves folding, twisting or bunching cloth and binding fabric, then dyeing with indigo. For the sake of convenience I have used a standard hand-wash dye from Dylon, commonly available in the UK. This makes it an easily accessible technique.
This scarf is made from a very lightweight cotton. It is 1 1/2 yards long by 16 inches width.
To make:
Hem the edges, double fold over the fabric and stitch.
Add a pom pom frill to the short edges of the scarf.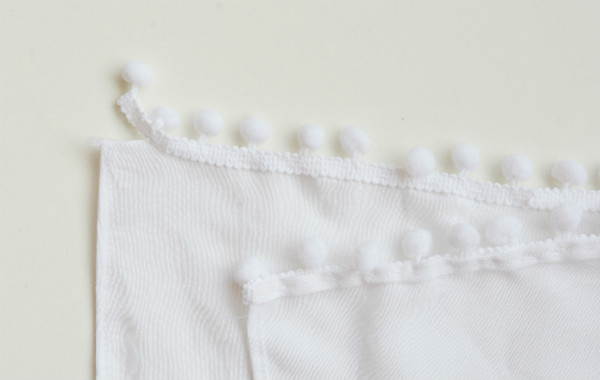 Use a large running stitch along the width of the scarf to gather up the fabric.
Once you have gathered the scarf tie with rubber bands, this creates a resist preventing the dye penetrating the fabric.
Mix your dye, following the packet instructions. Dye the scarf.
The best part: unwrap the rubber bands and remove the running stitch.
You may be lucky and pick up a thrift shop scarf you can dye, saving the job of hemming plus keeping the cost minimal.
For further shibori style inspiration visit my blog for shibori denim pencil cases – lightly coloured denim dyes beautifully,
Vicky
Where would you wear this gorgeous scarf?
Latest posts by Vicky Myers
(see all)