Ever since Carrie Bradshaw strolled through the streets in Paris with Big, in the final episode of Sex and the City, everyone has been inspired and out to find their own tutu skirt. I'm sure we all remember how adorable and chic her green layered tulle skirt was with a simple tank, fur muffler, and strappy heels. I was an avid follower of the show for years, and that outfit was the most wearable of all her outfits. Those stylists knew exactly what they were doing to make such a lasting impression on their viewers. Sure, it's been almost ten years since the finale, but tulle skirts have made such a comeback, and many people still try to find copycat patterns. Carrie was really ahead of her time. Tulle skirts are such a delicate way to show your feminine side, while still being comfortable. These DIY skirts are so easy to make since they require so few materials. Once you get the basic process down, you can adapt it to how poofy you really want. The best part about this simple tutorial is that it uses an elastic band, so the measurements are perfect for any size and shape.
I danced for about six years, so tutus are my bread and butter. Just because you graduate from dancing doesn't mean you stop having the habits. My former dancers know that if you're standing, you're standing in fourth or fifth position. Your spine is always straight, shoulders pushed down and back, and your head is held high. Years of training have formed these little ticks and they probably won't go away any time soon. These easy skirts are cute and lightweight enough to let me continue my dancing habits in style. They are not only great in the summer, but they can be worn in the winter too! Darker colors = winter wearable in my book.
I can't wait to get started on this tutorial. This would look great paired with a plain top and a statement necklace. This skirt can be dressed up or down for any occasion that you're going to. They're so comfortable and so easy to make that you're going to want to make this sewing pattern in a full rainbow of colors.
Tulle Skirt Tutorial
Materials
Tulle- 3.5-4 yard of 108-inch wide tulle
Satin for Lining- 2 yards at 45-inches wide
3-inch wide elastic- enough to comfortably fit around your waist plus seam allowance
Notes
Seams allowances are 1/2-inch
Given the exact measurements that is used for the skirt, but there are a lot of pleats and fathers, so the measurements will probably work for most sizes from small to large. You can, of course, adjust for small or larger sizes by adding more or less width of tulle.
Instructions
1. You will be using the full 108-inches of tulle width for the circumference of the skirt. You'll just need to cut 4 pieces of 108-inch by the length you'd like. (Abby cut four 27″ x 108″ pieces. Abby is 5'6″ and was just below the knee.)
2. For the lining, cut it the same length as the tulle and as wide as your hips plus about 10-inches.
3. Sew the short sides together of each tulle layer and the lining as well. A serger works great, and if you don't have a serger, you may want to use a French seam to keep the edges looking nice.
4. Matching up all of the seams and top edges, baste all four layers of tulle together. The most taxing part of this is matching up so much tulle—it's hard to see when it's all layered on top of each other, but be patient and the rest will be a breeze.
5. Now that the tulle is basted into one piece, pleat and pin the top edge until it's the same width as the lining. I like to continually pin on opposite sides to keep my pleats even. It'll take some adjusting as you go and try to get the pleats right, but if they're not perfect it's not a big deal.
6. Matching top edges (with lining inside of tulle and both right side out), pin and baste the tulle and lining to each other.
7. Stretch your elastic around your waist and cut a comfortable, but snug, length (plus 1/2″ for seam allowance). Tulle skirts are usually worn fairly high on the waist, so keep that in mind as you measure. Sew the short ends together.
8. Open seam allowance and stitch each side down, 1/4-inch from the seam.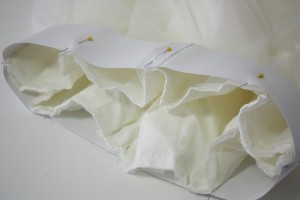 9. Use pins to mark half, quarter and eighth marks around the top of the skirt and around the elastic. Making sure the elastic waistband seam is in the back middle of the skirt (you can choose whether to place skirt seams on center back or on one side), pin waistband to skirt, right sides together, at marks. The skirt, of course, will be larger at this pint than the elastic.
10. Stretching the elastic as you go, use a zigzag stitch to join the elastic to the skirt.
11. Remove any basting/pleating stitches that may be visible from the right side.
12. Trim lining hem to same length as tulle or about an inch shorter if needed (it will then be 1-2-inches shorter than the tulle when hemmed). Press bottom raw edge of lining 1/2-inch toward wrong side, and 1/2-inch toward wrong side again. Stitch in place.
Looking for more tulle and tutu skirts? Check out these easy sewing patterns.
We want to know: is this a classic look or a trendy wave? Tell us what you think below in the comments!
Latest posts by AllFreeSewing
(see all)