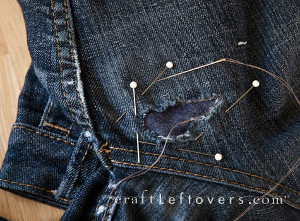 Don't you hate when the shirt you absolutely love is too small? Or your favorite pair of jeans finally give way to a hole? Fret not! Those fashion woes can be cured with these tailoring tips and refashion tutorials! Take a look at these finds to get the low down on how to refashion clothes for betters fits and longer lasting wear. Don't miss our super sweet announcement below that will allow you to get even more tips and tricks on making do and mending.
How to Mend Clothes (for the better)

Ripped jeans, too tight pants, and ill-fitting clothing have nothing on you. Learning how to mend jeans and other articles of clothing is no longer a complete mystery thanks to these five lessons on mending. The next time you realize that the wash has eaten away at your best-fitting pair or pants or that the fall you took during your run ripped that $30 shirt, consult this roundup of clothing mending tips. Each of these instructional posts is brought to you by experienced designers who know how to tailor.
Refashioning Clothes (the trendy way)
Do you love the print on that one top, but can't fathom how you ever got away with the fit? Good fabric is everywhere; including in stores, online, and in your wardrobe. Use these tutorials on refashioning clothes to get the latest and greatest styles without paying the price. You'll be impressed that you can turn tees into useable nighties and make those jeans a cutting edge pencil skirt for the office. Browse through these refashion tutorials and thank yourself for not tossing out any of those clothes.
Want to REALLY Learn How to Mend?
You can! Until August 4th you can enter to win a copy of Mend & Make Fabulous! This amazing find from Interweave Press gives you sewing solutions to your seemingly unconquerable fashion woes. Enter once a day, every day to get your hands on a copy of this incredibly helpful guide.
Latest posts by Seams and Scissors
(see all)