This is part of a week-long series for National Sewing Month. Don't forget to enter the Grand Prize Giveaway!

Any quilter or sewing enthusiast knows that purchasing fabric can easily become very expensive. How many times have you found a gorgeous fabric that you're dying to use, only to find that it's sadly beyond your budget? That's why so many quilters turn to precut fabrics. Precuts are typically much more budget-friendly than buying individual yards of fabric and come with cute prints and patterns in gorgeous colors. The best part about precuts is that it's incredibly easy to use them in quilt patterns and projects; smaller precuts like charm packs are great for patterns that require HSTs (half-square triangles) while larger precuts like jelly rolls and layer cakes are excellent for strip quilts. But if you're new to quilting, it can be hard to keep track of all of the different precuts, especially those lovely precuts with fun dessert names. If you can never keep track of the difference between a layer cake or a jelly roll, then never fear, because FaveQuilts is here to save the day with our guide to precuts. From common precuts like charm packs to lesser known precuts like jolly bars, we've created a useful guide to keeping your precuts straight, and have added a few of our favorite precut patterns as well. Here's wishing you happy quilting!
*Note: Honey buns are not included on this list. Honey buns are smaller than jelly rolls and typically measure 1.5″ x 44″. They're also great for strip quilts and similar projects!
Mini Charm Packs – These precuts typically include about 42 pieces and a perfect for patchwork projects. Mini charm packs measure 2.5″ x 2.5″.
Charm Packs – One of the most popular precuts, charm packs also contain roughly 42 pieces and are great for patchwork quilts or patterns that call for half-square triangles.
Jelly Roll – Jelly rolls are a long-time favorite with quilters and usually contain about 40 strips of fabric. Jelly rolls are great for strip quilts and are often used for bed-sized quilts.
Jolly Bars – Jolly bars are a rarer precut than most and come in 5″ x 10″ rectangles. These precuts are great for yellow brick road quilts and can also be used similarly to charm packs.
Layer Cakes – Layer cakes are common precuts that are typically used in larger quilting projects. These precuts typically contain about 42 pieces and measure 10″ x 10″.
Fat 8th Bundles – Fat 8th bundles are half of a fat quarter and rectangular in shape. They're great for smaller quilting projects and come in pretty colors and prints.
Fat Quarter Bundles – The crowning jewel of precuts, fat quarters are extremely budget-friendly (you can even find small fat quarter bundles for $1 at stores like Wal-Mart). Fat quarters were the first specialty cut available and are the most common precut.
Half Yard Bundles – Measuring in at a half a yard of fabric, half yard bundles are the big sister of fat quarters. Perfect for larger quilting projects, these bundles measure at 18″ x 44″.
Be sure to check out some of our favorite precut patterns below!
Charm Pack Patterns
Jelly Roll Patterns
Layer Cake Patterns
Fat Quarter Patterns
BONUS!  Tri-Me Honey Bun Quilt
What's your favorite precut? We want to know below in the comments!
How to Enter Our Grand Prize Giveaway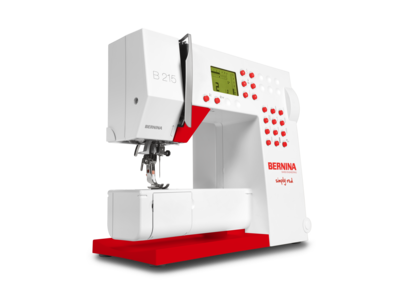 To celebrate National Sewing Month, we're giving away a GRAND PRIZE: this BERNINA 215 Simply Red valued at $999! Enter to win on AllFreeSewing.com.
Gain extra entries for our grand prize by commenting on our daily National Sewing Month blog posts here on Seams & Scissors. Comment your answer to our question below for an extra entry!
Contest Rules:
Commenting on this page will enter you to win the prize. Duplicate comments will be deleted and are not tallied.
The winner will be selected at random from the comments on this page and entries on AllFreeSewing.com.
You have until September 30th, 2016 at 11:59 CST to leave your comment on this post. Comments after that will not be counted.
Contest is open to anyone 18+ in the US and Canada. Void in Puerto Rico, the Province of Quebec and where prohibited.
The winner will be contacted by the e-mail address provided in their account.
Today's Question: What are your tips for precuts?
Latest posts by FaveQuilts
(see all)