Print This Post
This is part of a week-long series for National Sewing Month. Don't forget to enter the Grand Prize Giveaway!
Scrappy Patchwork Apron Pattern
With leftover scraps, you can make an adorable apron to gift on a lucky friend this holiday season. You could make this apron in holiday colors, but more general fabric can be used all year long! Our friends at Westcott bring you this super easy, super cute apron sewing pattern.
Materials:
Westcott ExtremEdge Adjustable Tension Titanium Bonded Scissors, 9"
Westcott Craft Self Healing Cutting Mat, 12″ x 18″
Cotton Fabric Scraps (enough to cut out 14 rectangles that are 4.5" x 18")
Satin Blanket Binding
Sewing Thread
Sewing Machine
Stick Pins
Iron & Ironing Board
Steps:
1) Select a variety of fabrics that compliment each other. In this case we chose 7 different fabrics.
2) Lay the fabric onto the cutting mat, lining up the raw edges. Using the mat as a guide, cut through all the layers of fabric at once. You are going to cut 14 rectangular strips of fabric that measure 4.5" x 18". The Westcott ExtremEdge Scissors are perfect for cutting through multiple layers of fabric at once and feature adjustable tension for your cutting comfort!
3) Stitch the strips together with a ½" seam allowance and iron the seams flat. Then cut the blanket binding to your desired length, depending on the size you want your bow to be in the back.
4) Hem the bottom and sides of the sewn panel. To create the gathers for the waistband, sew three parallel rows of basting stitches along the remaining raw edge of the panel. Be sure to leave the threads long at the beginning and end of each row, and do not backstitch. Pull on the threads to gather the fabric to your desired width. For our apron, we gathered to a width of 23". Tie knots on the loose threads to secure the width then even out the gathers by working through with your fingers. Press the gathers flat. Fold, press and tuck under the raw ends of the blanket binding. Pin the blanket binding over the gathered section (be sure to center the two) and stitch the two pieces together, running your stitching all the way down the length of the blanket binding. And lastly, stitch the ends of the blanket binding closed.
How to Enter Our Grand Prize Giveaway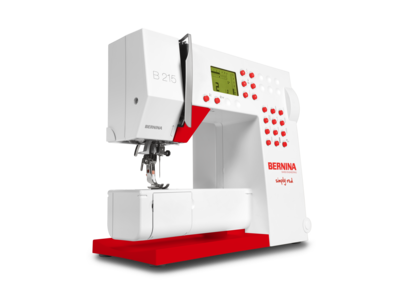 To celebrate National Sewing Month, we're giving away a GRAND PRIZE: this BERNINA 215 Simply Red valued at $999! Enter to win on AllFreeSewing.com.
Gain extra entries for our grand prize by commenting on our daily National Sewing Month blog posts here on Seams & Scissors. Comment your answer to our question below for an extra entry!
Contest Rules:
Commenting on this page will enter you to win the prize. Duplicate comments will be deleted and are not tallied.
The winner will be selected at random from the comments on this page and entries on AllFreeSewing.com.
You have until September 30th, 2016 at 11:59 CST to leave your comment on this post. Comments after that will not be counted.
Contest is open to anyone 18+ in the US and Canada. Void in Puerto Rico, the Province of Quebec and where prohibited.
The winner will be contacted by the e-mail address provided in their account.
Today's Question: Do you keep your scraps?
Seams and Scissors is a place where sewing and quilting are celebrated every day. It is a creative resource for those who both cherish these skills and those who want to acquire them. On Seams and Scissors the curious creator will find full sewing and quilting tutorials, project collections, tips and tricks, as well as endless inspiration.
Latest posts by Seams and Scissors (see all)
Print This Post