We're teaming up with our sister site, RecipeChatter, to bring you the Love and Oven Mitts charity drive! Starting now, we're calling on sewists like you to help us out by making an oven mitt or potholder for the cause. This easy potholder tutorial is by Katie King from Running with a Glue Gun. It's a basic kitchen accessory that does the job and would be a super quick project to make and donate! For information on how to donate, check out the post here. Don't forget to check out our free oven mitt pattern, as well!
Sometimes, you just want to make a simple sewing project which doesn't require a lot of bells and whistles. Especially if you're new to sewing, the thought of making a quilt, a dress or even a pillow can be a bit scary. So why not start off small and make something really useful, like a potholder!
Your first thought of making a potholder, might be that potholder loom that you had as a kid. Even though those potholder looms are really fun, you sometimes want to make something that looks a bit more professional. Sewing your own set of potholders is not only easy to do, but a really great way to get used to your sewing machine and different sewing techniques. On the other hand, if your novice sewer, making a potholder can be a great bonus gift. For example, you could make a potholder to go along with that awesome housewarming gift.
So if you want to learn how to make your own potholder (in only four easy steps), then check out the full tutorial below!
Supplies
• Fabric
• Quilters Batting
• Bias Tape
• Sewing Pins
• Thread
• Needle
• Scissors
• Sewing Machine
• Iron (optional)
Before Getting Started:
For this project, you can either sew it all by hand or on your sewing machine. Normally I'm a big fan of hand sewing, but to make this project a bit quicker, the sewing machine will definitely be your best friend! Also, I decided to make my potholder 8 inches by 8 inches, but you could adjust the size to your liking.
Step 1: Cut out two pieces of fabric that measure 8 inches by 8 inches. Then grab your quilters batting and cut out one piece which also measures 8 inches by 8 inches.
When you're done, you should have three pieces in total (two fabric pieces and one piece of quilters batting).
Step 2: Now arrange your three pieces in a sandwich like form. You will want one of your fabric pieces (right-side-up) on top, your batting in the middle and the second piece of fabric (right-side-down) on the bottom. Once your pieces are layered, pin them together.
Now take your pinned piece of fabric to the sewing machine and sew on top. Your sewing on top can be in the form of a grid, diagonal lines or some free form shapes. The point here, is to have your pieces be sewed together. So you can make the sewing during this step, as simple or complicated as you like!
Step 3: Grab your bias tape and sew it around your piece of fabric. I opted to sew my bias tape on by sandwiching my main piece of fabric in-between the bias tape and then sewed all the way around. Then once I got to my last corner (where the two bias tape ends would meet) I cut my tape and sew it into place.
Now technically speaking, this method (to some) may not be the "proper" way to sew on bias tape. However, if you're new to bias tape and want to sew it on fairly quickly, this method works very well. You just have to make sure that when you're sewing, that you're going through the top layer of the bias tape, your main piece of fabric and finally the back of your bias tape.
Also (on a side note) if your potholder looks a little funny after adding the bias tape, don't worry! Just grab your iron and give your potholder a quick press, to even everything out.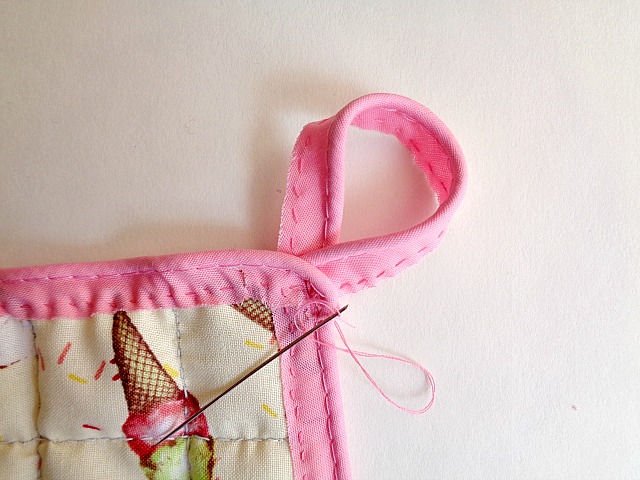 Step 4: Grab your leftover bias tape and cut a small piece which measures 2 inches long. Then sew the bias tape's edges shut, by running it through your sewing machine. Once your bias tape is sewed shut, form it into a loop and hand sew it onto the back of your potholder.
When your loop has been sewed on, then you're ready to use your new potholder!

Wasn't that easy to make?
Don't forget that you can get really creative (while making this project) when it comes to choosing your fabric. Even though I opted for ice cream cones, you could make your potholder food themed, animal theme or whatever theme floats your boat. Personally, I think it would be cute to make a coffee themed potholder, then maybe get some coffee/coffee mugs to create a coffee lover's housewarming gift!
If you made this potholder, what fabric would you choose to use?
Latest posts by Seams and Scissors
(see all)