If you're a quilter, and you ever have the opportunity to go to Quilt Market and Festival, listen: go. Quilt Market is the closest a quilter will ever get to heaven on earth. Whether you go with the intent of blowing your life savings on amazing new notions and fabric, or if you're more of a frugal window-shopper, walking the floor of Quilt Market is absolutely worth the trip. Imagine all the things you love best about quilting in one place: fabrics, new patterns, fancy new sewing machines, templates, and other notions, and face-to-face meetings with your favorite designers!
Tools & Notions
We saw amazing new tools from Clover USA, who showed off their fancy new iron mat and cutting tools. We especially loved their pressing glove, which allows you to spot-press places on your project without burning your hand or creating unwanted creases.
From Fairfield USA, there's all kinds of new batting and and interfacing. Their amazing line of varied fusible backing and liners are suited for all kinds of projects. The line is named for its function: "Stabilize," "Structure," "Stick," "Shield," and "Stiffen," are all examples of what you can do with these amazing backings. They're perfect for giving structure to wall hangings, softening up stiffer fabrics, or shielding picnics blankets from dirt and grass stains.
The big theme we saw in new tools and notions was "efficiency." All these new tools are meant to take some of the guesswork and painstaking legwork out of quilting so that your projects can be faster, easier, and—as a result—less onerous. Keep quilting fun!
Fabric & Design Trends
Everybody loves Downton Abbey, which is no surprise. Vintage and nostalgic designs were all the rage this year, from classic florals to stunning embroidery. (We loved, loved, loved this Down Abbey quote, for example.)
Purple was the color of the day! We were surprised by how many shades of purple we saw in the booths. From lavender to deep, rich shades, the royal color totally dominated the floor.
Of course, we also saw returns of old favorites, like working with denim. June Tailor has an all-new Quilt As You Go product on its way out (that you're going to LOVE), and their cathedral windows design is the PERFECT way to use up old jean clothes. One of the cutest ideas we heard was to use up old button-downs as your scrap fabric against the denim. It gives the project a really homey, keepsake quilt-y feel. And look how beautiful it is! We especially love the contrast of gold against the denim.
We definitely saw a lot of "old-meets-new," in design, updating or breathing fresh life into traditional patterns and designs. Always challenge yourself to add something unique and new to each project you make.!
For those of you who couldn't make the Market, we're running a swag bag giveaway! Enter to win a bunch of cool prizes from the trade show booths!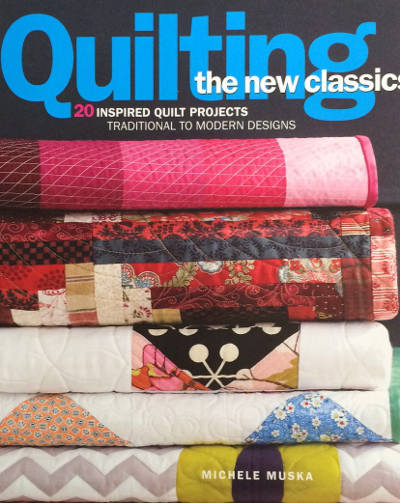 PLUS: Win a copy of Quilting the New Classics by Michele Muska, along with 5 yards of fabric from Fabric Traditions and four cutting templates: the Easy Dresden Quilt template, the Double Wedding Ring, the Scallop in two sizes, and the Double Wedding Ring Single Arc, donated by Darlene Zimmerman of Needlings! The deadline to enter is November 17th at 11:59:59 p.m. Eastern Time.
Did you go to Quilt Market and Festival this year? Have you ever been?
Latest posts by FaveQuilts
(see all)