Today's National Sewing Month Project is brought to you by Joy from XOXOGrandma.
Hi, I'm Joy and I blog at xoxo Grandma. Usually I'm busy creating things for my 10 grandchildren but this time, I made something for me.  When my husband's polo shirt ended up in our charity pile, I snatched it and turned it into a skirt. Seems like a reasonable thing to do, right? Especially if you want a new, affordable skirt. 
 Turning a polo shirt into a skirt was such an easy refashion.  Follow the cutting details as shown on the original polo shirt above. 
Cut off both sleeves and the top portion of the shirt, including the collar. The polo shirt will now look like a large rectangle.  

Sew up the area where the sleeves once were, making the new side seams.

The next step is to make a new casing.  Depending on the length desired for your skirt, the original hem can be used for the casing but I needed my skirt a little shorter, so I cut off the old hem sewn and added a one inch casing.


Now, hem the skirt (which was the top of the shirt).  Sew bias tape onto the raw edge, iron the bias tape toward the wrong side of the skirt and stitch in place, following the edge of the bias tape.  
In less than an hour, I had a new skirt!  I love how great this skirt looks with it's stylish slit.  It's so comfortable too.  If you want to try an easy refashion, this is the perfect project for sewing month.  xoxo Grandma
Today's Prize is a great Sew Essentials Storage System from Singer.
To enter the daily giveaway, leave a comment below telling us:
Who taught you to sew?
Official Rules for Daily Contest
There is a maximum of one entry per person. The entry will be based upon a comment left on this blog post. Duplicate comments will be deleted and are not tallied.
Winner will be selected at random from the comments on this blog post below.
You have until tonight, September 15th, 2015 at 11:59p EST to leave your comment on this post. Comments posted after that will not be counted.
Contest open to anyone 18+ in US and/or Canada.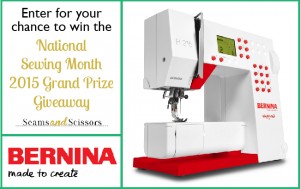 Enter daily for your chance to win the National Sewing Month 2015 Grand Prize Giveaway.
Latest posts by AllFreeSewing
(see all)