There's no way around it, babies are messy. I just had my second child and quickly remembered how important it is to have lots and lots of burp cloths around if you don't want to change your shirt every five minutes. If something is going to be all around your house, it ought to be cheery, so I decided to add some rainbow patchwork into our rotation!  Bright colors add so much to baby sewing patterns, and this burp cloth pattern is no exception. Follow along below and learn how to make a burp cloth of your own. 
Supplies:
1 Gerber Prefold Diaper (can be found on Amazon or in most brick & mortar baby stores) or a rectangle of absorbent fabric (terry cloth or flannel) measuring 12.5″ X 16″

Red, orange, yellow, green, blue, & purple scraps of woven cotton measuring 3.125″ X 12.5″

Coordinating thread

Hand sewing needle

Iron, Sewing Machine

Scissors or rotary cutter
Before you get started…
Be sure to prewash and dry all fabrics, including prefolds if you're using them. Burp cloths get lots of laundering, so you want to be sure the colors aren't going to bleed or shrink!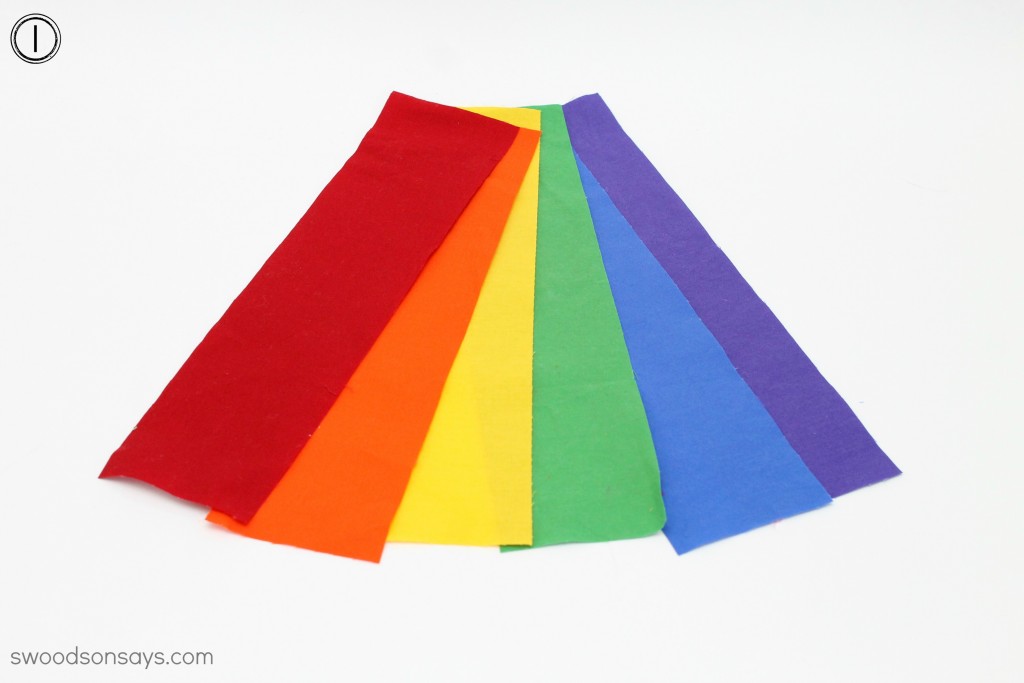 Step 1.
Cut all fabrics to the exact lengths and press smooth- using a rotary cutter and quilting ruler will give you the straightest lines!

Step 2.
Going in the order of the rainbow (Red, Orange, Yellow, Green, Blue, Purple) sew each strip right sides together, with a 1/4″ seam allowance. Press the seams open and flat.
Step 3.
Place the rainbow top right side down on top of the prefold or absorbent fabric. Sew along all 3 edges with 1/4″ seam allowance, leaving a two inch opening. Be sure to back and forward stitch at the beginning and end of sewing. Trim the seam allowance down, turn right side out, gently poke out the corners, and use a ladder stitch to close the opening.
Step 4.
Press the entire burp cloth and then stitch "in the ditch" between each panel with coordinating thread. Press again and you're done!
Is there anything sweeter than squishy baby rolls on bright, beautiful fabric? I think not! These would also make a perfect baby shower present and are so fast and easy to make!
Want more baby sewing patterns? Check out the tutorial on my blog for a DIY buckle toy, and be sure to see the other toy sewing patterns I have like a (free!) doll superhero cape and a play camera.
Latest posts by Stephanie Woodson
(see all)