Today's National Sewing Month Project (a lesson, actually) is brought to you by Angel Peterson from FleeceFun.
In this sewing lesson, Angel will explain the aspects parts of fabric. This is an important beginning sewing lesson that will help with any sewing pattern you are working on. She will explain cross grain, selvage edge, and what the "wrong" sides are.  The video below will explain everything, and don't forget that we have lots of great lessons and tutorials on our YouTube Channel, including more from Angel coming soon.
Once you've got down the basics of your fabric, you'll be able to confidently choose fabrics for all your sewing projects, whether you are going to learn how to sew a dress or make a baby quilt.
Some related lessons that we think will be helpful once you learn about the anatomy of fabric:
How to Choose the Proper Thread
If you need help choosing thread to use in your sewing projects, read this sewing thread comparison to learn the difference between different types of sewing thread.
Choosing the Right Fabrics for your Quilt
Perhaps the most important part of learning how to make a quilt is selecting to fabrics to incorporate in each piece. It's easy to design your own quilt when you know a few simple guidelines to choosing fabrics for a quilt. This article describes how to select fabrics for color value, print scale, intensity, and color.
Choosing the Best Colors for your Quilt
One of the first steps in making a quilt is choosing your color scheme, which isn't always easy. Simplify the process with this tutorial for Choosing Warm and Cool Colors, a handy approach to making simple quilt patterns that all skill levels will appreciate.
---
Today's DAILY GIVEAWAY is a great prize pack including a Pedal-Stay, COATS thread and a decorative tin.
Official Rules for Daily Contest
There is a maximum of one entry per person. The entry will be based upon a comment left on this blog post. Duplicate comments will be deleted and are not tallied.
Winner will be selected at random from the comments on this blog post below.
You have until tonight, September 7th, 2015 at 11:59p EST to leave your comment on this post. Comments posted after that will not be counted.
Contest open to anyone 18+ in US and/or Canada.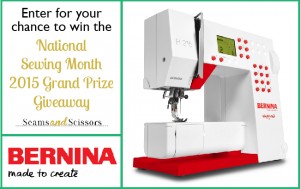 Enter daily for your chance to win the National Sewing Month 2015 Grand Prize Giveaway.
Describe your favorite piece of fabric.  Color, design, type… let us know!
Latest posts by AllFreeSewing
(see all)