If you need to know anything about your sewing machine, there is only one source you can turn to for any of the information you might need. Whether you are trying to figure out the parts of a sewing machine or just need to know what the best way to clean your sewing machine is, there is just one thing you need to pull out: the manual. Much like any other electronic you purchase at a store, your sewing machine is a complicated machine that is best understood when you read up on what the makers of that machine have to say. That's why this week's Sewing Tips and Tricks Tuesday has to do with learning how to use a sewing machine. This week's tip is:
Read the manual for your sewing machine.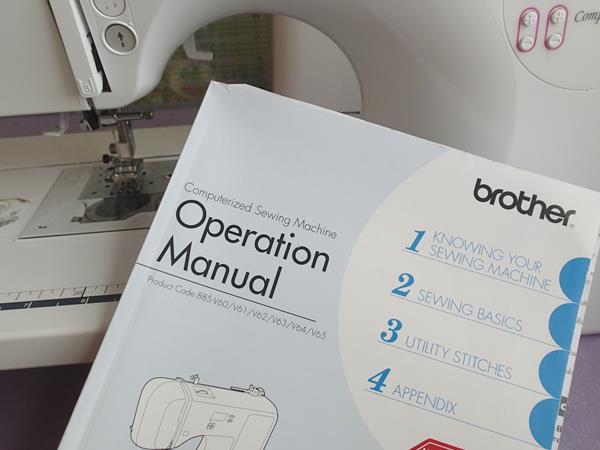 We cannot stress enough how important it is to read the sewing machine manuals that come with your machines. Since a sewing machine is such a complicated and important machine, you should know exactly how your particular machine functions. Plus, we can offer plenty of sewing tips and tricks as to how to thread your sewing machine and some sewing machine maintenance tips, but no machine is entirely the same. It is safe and just plain smarter to do what the manufacturer recommends. If you do not know where your sewing machine manual is or know for a fact that you have misplaced it, these can often be found online. Simple just search for "your sewing machine model + manual" on Google and the document should come up. We also have a handy list of where to find sewing machine manuals here on Seams and Scissors.

If you have a brand new sewing machine, learn how to get to know it from Deby Coles from So Sew Easy when you read How to Use a Sewing Machine: Getting Comfortable!
Have a Sewing Tip or Trick You Would Like to Share?
Comment below and we might feature your trick here on Seams and Scissors! A great sewing hack can make a world of difference and there is absolutely no reason to keep them to yourself. Interested in writing a Sewing Tips and Tricks Tuesday post for us? Go ahead and email us at editor@allfreesewing.com or click here to submit your idea.
Where do you keep your sewing machine manual?
Latest posts by AllFreeSewing
(see all)