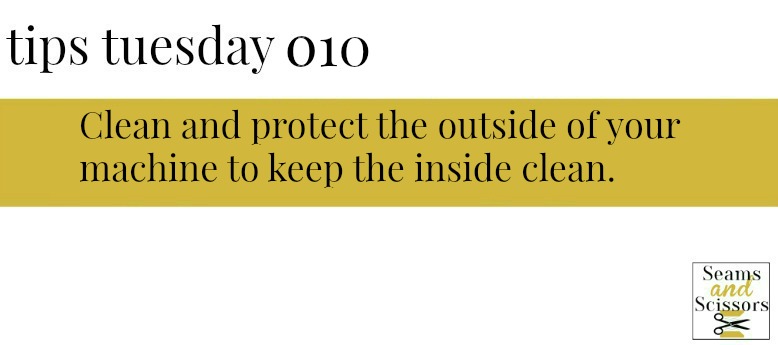 Most sewists know how to clean their sewing machine. If you want to sew smoothly, making sure your sewing machine is free of dust is very important. Grime inside your machine means it will slow down. A slow and clunky machine can be very frustrating. But where does all that build up come from? It doesn't get there on its own! The dust and grime in your machine comes from the outside. While sewing will always mean the inside might fill up with little pieces of fabric as your machine pierces it over and over again. That kind of clutter cannot be helped. Dust from home getting into the machine, however, can be fought! Which brings me to this week's Sewing Tips and Tricks Tuesday sewing hack…
Clean and protect the outside of your machine to keep the inside clean!
If you want to cut down the amount of time you spend on sewing machine maintenance, be sure to wipe your machine down after you sew. Use a dry cloth to wipe off excess fabric left behind on needle plate or bobbin cover. Doing this ensures that it does not get into the inside of your machine. Additionally, keep your sewing machine clean by ensuring you cover it up when you are not using it. This will make sure that extra dust floating around your home or space does not get into the nooks and crannies or your machine. Think about how much dust you find under your fridge when you move it, this very same dust is floating around your house and could float right into your machine!
Sewing Machine Covers to Make Today!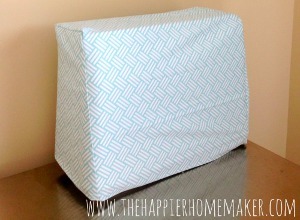 If you do not have a sewing machine cover, check out one of the adorable ideas we have on
AllFreeSewing
!
Learn how to clean a sewing machine the safe and right way. Sewing Machine Maintenance: How to Clean a Sewing Machine is an informative, packed with tips and tricks that will make cleaning your machine a breeze!
Know some sewing tips and tricks that you would like to share?
Comment below and we might feature your trick here on Seams and Scissors! A great sewing hack can make a world of difference and there is absolutely no reason to keep them to yourself. Interested in writing a Sewing Tips and Tricks Tuesday post for us? Go ahead and email us at editor@allfreesewing.com or click here to submit your idea.
How often do you clean your sewing machine?
Latest posts by AllFreeSewing
(see all)