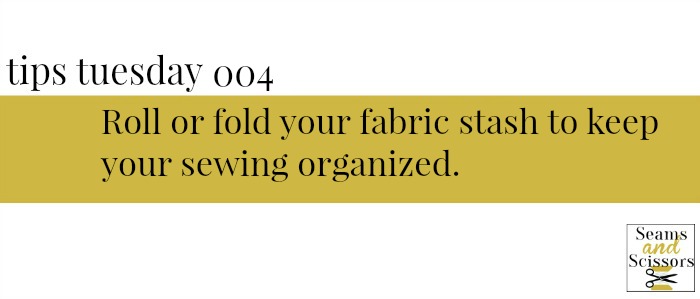 After finishing a huge sewing project, it can be hard to force yourself to use craft room ideas to keep your space extra organized. Big projects can be exhausting and it can be tempting to pile things up and leave the organizing for later. Resist that urge! If you want to keep sewing and get your crafting zen in order, arrange your fabric in a way that will keep you sewing. Plus, why would you hide all those lovely patterns? If you find a great place to store it, the fabric can be its very own decoration. Use folding and rolling techniques to store your fabric in a way that it is easily accessible. If you keep your fabric stacked neatly, you will not have to iron it before starting a new project. Learn how to organize and display your fabric stash with these craft room ideas in our Sewing Tips and Tricks Tuesday: Roll or fold your fabric stash!
Just like folding and storing your clothes, there is no right or wrong way to keep your stash tucked in tight. You can put it in drawers or you can roll it up and display it. No matter what you decide to do, just make sure that you store it in a way that keeps the fabric safe! Consider using one of these excellent craft room ideas for inspiration!
Fabric Storage Craft Room Ideas
1. Use a smart folding hack like this one from the Hunts 611 before stack your fabric or storing it in a bookshelf.
2. If you aren't big on keeping your stash out in the open, re-purpose one of your closets to hang your fabric like they did over at the 6th Street Design School.
3. Looking for something even more compact and cool? Why not store your fabric in a filing cabinet? Find an awesome tutorial on how to file your fabric from the Thinking Closet.
4. Store your fabric inside a DIY fabric basket or homemade organizer like these Adorable Scrap Fabric Basket Organizers from the Sometimes Crafter.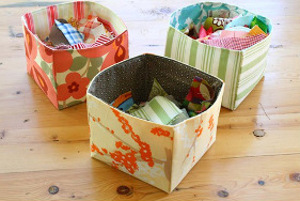 Know some sewing tips and tricks that you would like to share?
Comment below and we might feature your trick here on Seams and Scissors! A great sewing hack can make a world of difference and there is absolutely no reason to keep them to yourself. Interested in writing a Sewing Tips and Tricks Tuesday post for us? Go ahead and email us at editor@allfreesewing.com or click here to submit your idea.
How do you like to organize your fabric?
Latest posts by AllFreeSewing
(see all)